Academics' Choice Award™ Winner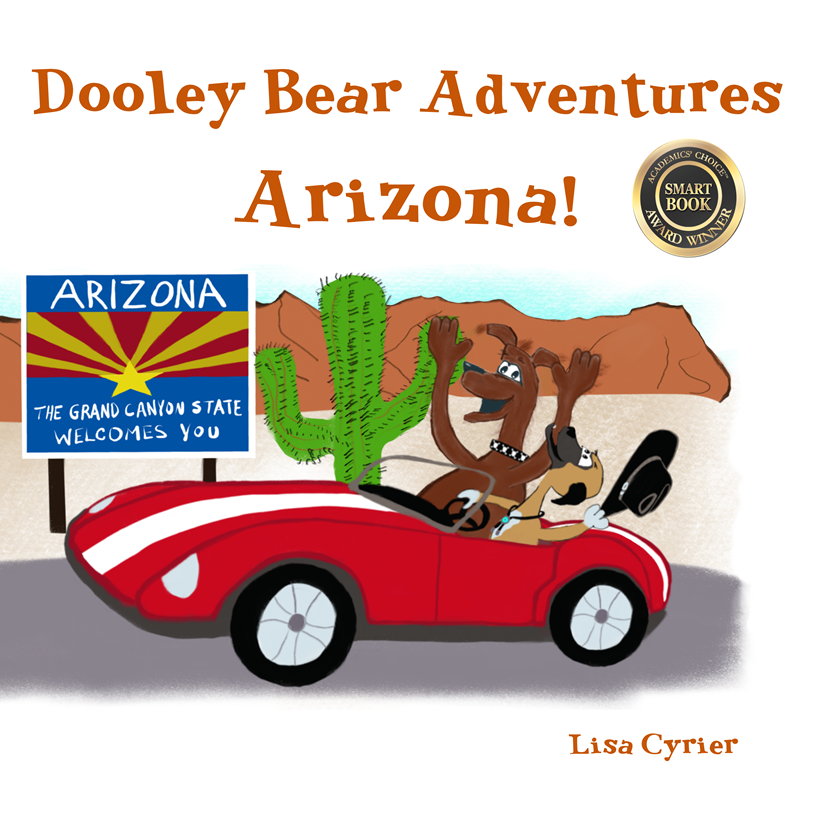 Dooley Bear Adventures - Arizona!
Ages: 1 - 5
Price: $9.99
Type: Book
By
Dooley Bear Adventures, LLC
Description
Dooley Bear Adventures - Arizona! is a children's picture book that includes online parent handbooks to promote critical thinking and preschool language concepts. In this book of the Dooley Bear Adventures series, Dooley Bear travels to Arizona. He rides a mule in the Grand Canyon, visits an old west town, tries to dance the Hoop Dance and eats chimichangas and prickly pear ice cream. He also learns about the state symbols.

Written by Lisa Cyrier, a speech language pathologist, the Dooley Bear Adventures series is more than just a collection of books, it's an educational journey. Each book has an online parent handbook that contains questions to engage children, as well as teach and reinforce preschool language concepts. The handbooks can be viewed at our website: www.DooleyBear.com

This product is the combination of a book and our website which features the parent handbooks that list questions to promote critical thinking. Our website also provides helpful tips for parents as well as fun ways to track which books have been read in the series. On our website, families can create passports and maps to track where they have traveled with Dooley Bear. We also have an app that allows families to access the parent handbooks on the go, as well as create passports.

Dooley Bear Adventures not only encourages and enhances language development, it also introduces children and their families to new cities, states and countries. Join Dooley Bear on his adventures around the world, while promoting preschool language skills!


Review Highlights:
Dooley Bear Adventures are wonderful picture storybooks to teach children geography and critical thinking, as well as appreciation for other cultures. The cleverly designed illustrations are hand-drawn to help enhance learning opportunities on each page while bringing the adventurous story to life. When combined with the parent handbook, tailored with suggested questions for each scene, children begin to explore Arizona while learning and practicing a multitude of skills. For instance, one of the suggested questions asked, "Why was Dooley Bear disappointed/sad?" The question enhances understanding of the story while introducing concepts such as emotions, empathy, and points of view. Another question asked, "Look at the two different types of cacti. Tell me what is the same about them and what is different." This prompt encourages comparing and contrasting, which requires careful observation, description, making inferences, and finding evidence to support generalizations. The glossary at the back of the book was a nice touch as well.
Two big paws up!
The author provides first-rate enrichment questions in the downloadable handbook for parents (available for free online). The questions focus on basic language concepts such as following directions, identifying and using descriptive words, prepositions, verbs, identifying and naming shapes, comparing, identifying members of categories, and much more. The storybook is a great learning vehicle on its own, but coupled with the handbook written specifically for each page it becomes fantastic. I also loved that the questions are separated into toddler and preschool specific sections.
Buy this product at:
As an Amazon Associate we earn from qualifying purchases.