Academics' Choice Award™ Winner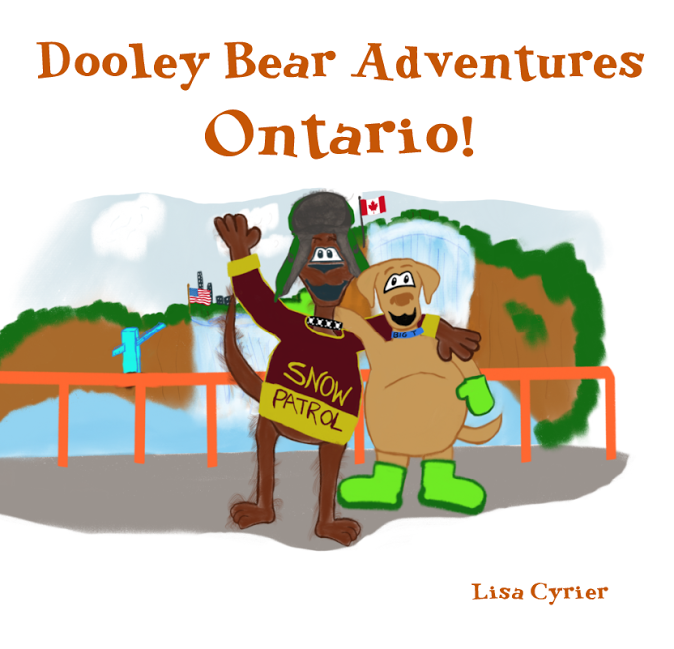 Dooley Bear Adventures - Ontario!
Ages: 1 - 5
Price: $9.99
Type: Book
By
Dooley Bear Ventures, LLC
Description
Dooley Bear Adventures - Ontario! is a children's picture book that includes online parent handbooks to promote critical thinking and preschool language concepts. In this book of the Dooley Bear Adventures series, Dooley Bear travels to Ontario, Canada to see his cousin Tucker. He explores Niagara Falls, visits a sugar bush, plays ice hockey, and eats poutine and maple syrup.

Written by Lisa Cyrier, a speech language pathologist, the Dooley Bear Adventures series is more than just a collection of books, it's an educational journey. Each book has an online parent handbook that contains questions to engage children, as well as teach and reinforce preschool language concepts. The handbooks can be viewed at our website: www.DooleyBear.com

This product is the combination of a book and our website which features the parent handbooks that list questions to promote critical thinking. Our website also provides helpful tips for parents as well as fun ways to track which books have been read in the series. On our website, families can create passports and map where they have traveled with Dooley Bear. We also have an app that allows famlies to access the parent handbooks on the go, as well as create passports.

Dooley Bear Adventures not only encourages and enhances language development, it also introduces children and their families to new cities, states and countries. Join Dooley Bear on his adventures around the world, while promoting preschool language skills!


Review Highlights:
My kids like that the book is hand drawn, and looks similar to kids' drawings. They love that the main character is a dog, since they are dog-obsessed, and think that it's awesome that Dooley Bear goes on adventures all over the world. The books introduce new locations and countries to the kids, and teaches them about some of the activities that those cities or countries are known for.
When we read the Dooley Bear books, we bring out maps to work on map reading skills, utilize the internet to learn about different locations and activities mentioned in the book (Niagara Falls, Toronto, and a sugar bush), cook the foods mentioned in the book (in Ontario it was: Canadian maple syrup on pancakes, poutine, bacon birthday cake, and back bacon - we tried all except bacon birthday cake), learned about hockey (and was able to see our cousins play and win a tournament game), and learned about different plants and animals that are native to Canada.
The parent handbook makes this book a powerful learning tool. The author offers excellent enhancement questions that promote thoughtful bonding and reflective learning opportunities.
Buy this product at:
As an Amazon Associate we earn from qualifying purchases.