Academics' Choice Award™ Winner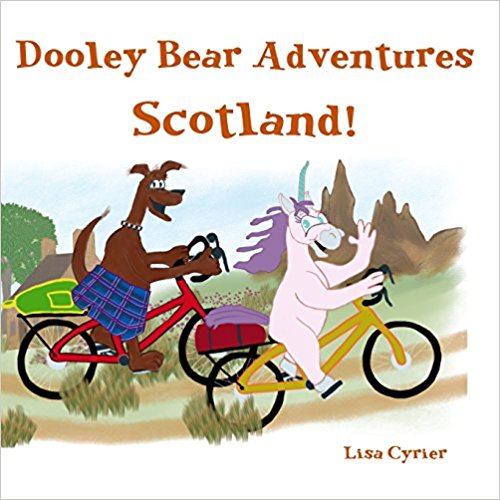 Dooley Bear Adventures - Scotland!
Ages: 1 - 7
Price: $9.99
Type: Book
By
Dooley Bear Ventures, LLC
Description
Dooley Bear Adventures - Scotland! is a children's picture book that includes online parent handbooks to promote critical thinking and preschool language concepts. In this book of the Dooley Bear Adventures series, Dooley Bear travels to Scotland. He meets the national animal who takes him on a magical bicycle tour to the Highlands. He plays the bagpipes in Edinburgh, golfs at St. Andrews, competes in the Highland Games and eats Scotch pie and haggis.

Written by Lisa Cyrier, a speech language pathologist, the Dooley Bear Adventures series is more than just a collection of books, it's an educational journey. Each book has an online parent handbook that contains questions to engage children, as well as teach and reinforce preschool language concepts. The handbooks can be viewed at our website: www.DooleyBear.com

This product is the combination of a book and our website which features the parent handbooks that list questions to promote critical thinking. Our website also provides helpful tips for parents as well as fun ways to track which books have been read in the series. On our website, families can create passports as well as map where they have traveled with Dooley Bear. We also have an app that allows famlies to access the parent handbooks on the go, as well as create passports.

Dooley Bear Adventures not only encourages and enhances language development, it also introduces children and their families to new cities, states and countries. Join Dooley Bear on his adventures around the world, while promoting preschool language skills!


Review Highlights:
Two big paws up!
Dooley Bear is quite an adventurous dog! I like that the actions in the story are concrete. The story is a non-fiction story wrapped in a fictional character's adventures in a new and exciting country. There are so many children that could relate to international travel, I like that this series is a good starting place for children ages 3-9. It sparks discussion of new places and in particular, Scotland. My 5-year-old daughter loved the unicorn and wanted to travel to Scotland after reading the story!
As a fellow Speech-Language Pathologist, I was excited to get my hands on a copy of this language-rich story. There were several pictures that allowed for commenting and expansion of language (i.e. question forms, story recall and sequence, etc). The author, Lisa Cyrier, has some great extension questions and ways to further the discussion for children and parents on her website. This was a great resource and definitely something I would recommend for any parent of a child in early intervention for speech.
What a great series! While the illustrations in the book do not seem as "professional" as other picture books, the full color pages and characters grow on you as you read the story. My own daughter could relate to the pictures and immediately recognized characters and places that were imperfect to my adult eyes. Lisa Cyrier did a fantastic job of weaving facts that may seem dry into interesting parts of her story that silly Dooley Bear wondered, "Can I eat it?" This was a great read and is unlike any other books we currently have on our bookshelf (and that is saying a lot!).
Buy this product at:
As an Amazon Associate we earn from qualifying purchases.