Academics' Choice Award™ Winner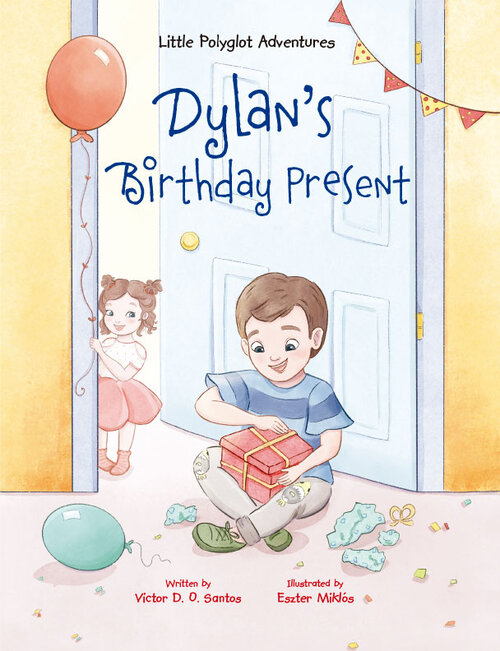 Little Polyglot Adventures (Vol. 1): Dylan's Birthday Present
Ages: 3 - 8
Price: $9.99
Type: Book
By
Linguacious
Description
Dylan is an American boy like many others. One thing makes him special, though: his parents come from other countries and speak to him in different languages. It's his birthday today and he receives a very unusual present, only to lose it shortly after. Together with his best friend Emma, a sweet bilingual girl born to South African parents, Dylan sets out to find his lost birthday present. During their search, the two friends learn about the value of friendship, of speaking different languages, and of appreciating one's own as well as others' cultural and linguistic background.

This book is also available in 15+ languages, in both bilingual and monolingual versions.


Review Highlights:
I love this story! It conveys such an important lesson to kids (and adults) to embrace different languages and cultures, not fear the differences. It clearly demonstrates the value of learning other languages and that friendship, regardless of differences, are useful and should be valued. Foreign language anxiety, or xenoglossophobia, is real issue and this story helps kids see that different cultural backgrounds are common, helpful and should be appreciated.
The colorful illustrations are spot-on, support the story, and I love that the non-English words were defined at the bottom of each page when used.
I started calling my daughter "my little polyglot" thanks to the story (polyglot means a person who knows several languages).
This picture book subtly encourages kids to value knowing and learning other languages by demonstrating how useful other languages can be in a relatable way. It's absolutely true that you don't truly know your native language until you learn to speak a foreign one, and this book makes kids excited to venture outside their comfort zones and learn a new lingo.
Buy this product at:
As an Amazon Associate we earn from qualifying purchases.