Academics' Choice Award™ Winner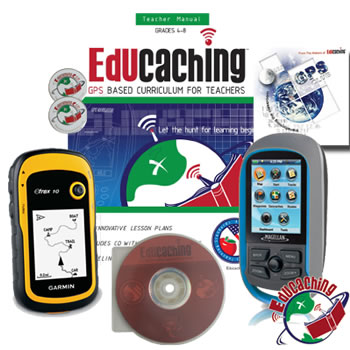 Educaching Curriculum
Ages: 9 - 15
Price: $32.95
Type: Book, eBook
By
SDG Creations Ltd
Description
Educaching® GPS STEM Curriculum for Teachers manual is ideal for parents/teachers that are looking to create an outdoor learning environment with geocaching lessons. The STEM lesson plans are everything you need to engage students and differentiate instruction for all learners with hands-on activities. The hunt for learning begins with Educaching.

The Educaching manual provides easy-to-follow instructions along with innovative math lessons, science lessons, and PE lessons that align with the national teaching standards. GPS and education convert the outdoors into a learning laboratory. Problem solving is at the root of all Educaching lessons and many Common Core Math standards are met for grades 4 – 8.

Recipient of The Teacher's Choice Award for the Classroom, this comprehensive curriculum includes sections on:
- Professional development that explores every aspect of how to incorporate geocaching in education.
- 20 cross-curricular STEM lessons that vary in degree of difficulty from Beginner to Advanced
- Customizable Formative Assessment Sheets coinciding with each lesson.
- Tips on how to acquire GPS equipment, including grant writing tips.
- Additional Fun ideas that extend the use of mobile technology beyond formal class time.
Review Highlights:
The SDG Educaching Curriculum guide allows teachers to jump into Global Positioning System (GPS) technology with relative ease. The geocaching activities are multidisciplinary and provide students with opportunities to practice a variety of critical thinking skills such as evaluation, analysis, observation, and deduction. As a newbie to geocaching the definitions of related terms and clearly defined lesson plans were very helpful.
An excellent way to introduce young students to the STEM fields in action. Let the high-tech treasure hunting begin! Download this free GPS receiver from iTunes (for iPad or iPhone) to avoid the expense of purchasing a GPS receiver device.
Buy this product at:
As an Amazon Associate we earn from qualifying purchases.