Academics' Choice Award™ Winner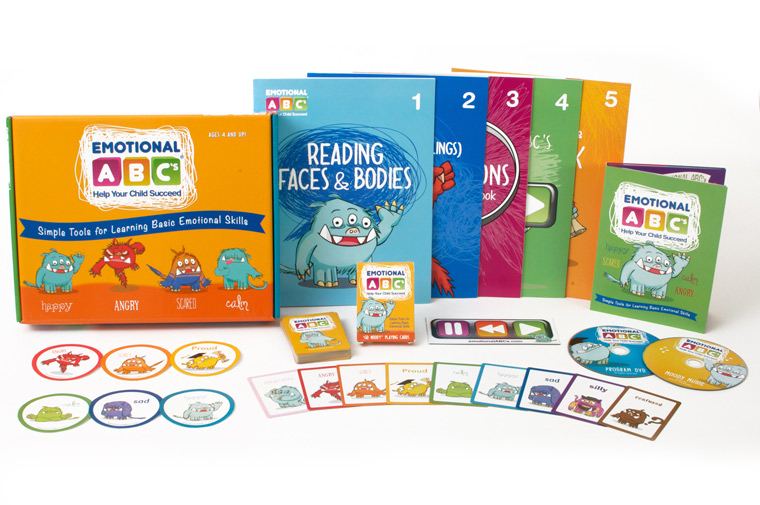 Emotional ABCs
Ages: 4 and up
Price: $129.99
Type: Book, DVD, Audio, Game
By
Emotional ABCs
Description
In the quest for success and happiness, emotional intelligence can matter more than IQ. But most children are not taught fundamental emotional skills, and instead, resort to makeshift coping strategies of their own. Launching today, Emotional ABC's Activity Kit & DVD is the first program to give children, parents and teachers simple, useable tools to work through the continuous streams of powerful childhood emotions.

Developed with psychologists, therapists and educators, Emotional ABC's teaches children essential techniques to identify feelings, recognize sensations, and answer basic questions about well-being: What am I feeling? Why am I feeling this emotion? What's the best choice for me in this particular situation? Geared for children ages 4 and up, the program stars Moody, a cuddly animated monster who desperately needs to learn his Emotional ABC's.

Multiple studies confirm that children learn better, develop stronger relationships and have higher self-esteem when they effectively manage their emotions, and now the results of these studies go beyond research. Hoping to identify future leaders, top business schools are beginning to test applicants for emotional intelligence; and even Google sends many of its employees to EQ (Emotional Quotient) training programs. Emotional literacy is now a sought after skill.

Program Components of Emotional ABC's

Emotional ABC's helps every child gain lifelong emotional intelligence. The program consists of:

- A 40-minute DVD - the core of the Emotional ABC's program.
- Five Activity Books - reinforce concepts presented in the DVD.
- Moody Music CD - award-winning film composer's rendition of various moods.
- Full deck of Playing Cards featuring Moody.
- Colorful Stickers - to help children identify changing moods.
- Emotional ABC's Toolbar magnet - a visual cue to help children remember and utilize their newly learned skills.
Review Highlights:
As a mom with a degree in Pedagogics, I am always excited to provide good educational toys for my child to help her develop and learn about the world. As your child grows, he learns about and experiences all the compex emotions that are of human nature.The Emotional ABC's is the new kind of toy to guide your child through this process and is designed to provide a foundation for the "Emotional Literacy". The program includes a DVD about a monster Moody, five interactive workbooks to help your child practice emotional education through various creative activities, a music CD, a deck of playing cards and a set of stickers. All moms know that when children grow, their emotions come first since the very beginning, this is is the only way a child can express their needs before they learn to talk and communicate in other ways. A toy that teaches a child how to apply, understand and regulate various emotions is trully remarkable. It is recommended for ages 4+ and is perfect for children of preschool age.
This is a program that requires from a parent a dedication and learning along with the child. All the instructions are included and are easy to follow and understand. The set is full of engaging activities that are fun for both, a parent and a child. Monster Moody shares such various emotions as happy, proud, scared, angry, calm, sad etc. This new little monster figure is quite entertaining and brings much fun to this otherwise serious project. There is no right and wrong way to use this toy, rather common guidelines to make this a useful and pleasant experience. However, all moms should judge what is the best way to play according to their child's needs. We are learning to navigate our way through the various activities of this program, but I can already say this is a unique toy that expands the learning horizons for your child and I highly recommend it.
Emotional ABC's is a well designed kit to help children learn how to respond to their feelings. The kit includes a DVD, audio CD, five workbooks, stickers, and a magnet. The DVD is about 45 minutes long and includes 11 chapters that introduce children to feelings as being something everyone has and that all your feelings are ok to have. They are compared to the weather in some very good analogies. My seven year old remained engaged throughout the video, which is in a format similar to Blue's Clues with a live narrator and an animated background with an animated "friend" named Moody. Several live children are also part of the video, representing different ages and cultures. My ten year old found the narrator "fake" and was not as engaged. I feel that the age of four and up on the product is more likely four to about eight years old. The format is wonderful! First, children learn how to identify feelings both from sensations on the inside of their bodies and cues from the outside of their body. Then they learn how to calm themselves with a simple breathing exercise. Finally, they learn and practice three steps to dealing with feelings-- pause and breathe, rewind (to identify the feeling and reason for it), and play (make a good choice). The narrator takes the viewer through each step, offers encouragement, and seems to really connect to the viewer. Three chapters of the video take the viewer through a common childhood experience and show how to apply these steps to the resulting feelings. Five workbooks are included and all of them reinforce the major parts of the video. There is also a Go Fish type game with cards for nine feelings and the three steps to further reinforce the concepts. I think this kit is an excellent introduction to emotional intelligence for early childhood.
Buy this product at:
As an Amazon Associate we earn from qualifying purchases.