Academics' Choice Award™ Winner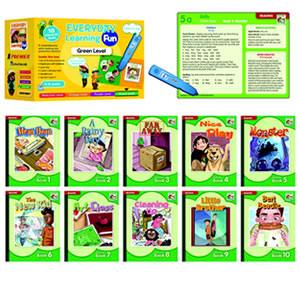 Everyday Learning Fun
Ages: 3 - 8 | Grades: PreK-2
Price: $33.74 - 1,299.00
Type: Book, Gear & Equipment, Electronics
By
School Specialty
Description
Engage all learners with a hands-on literacy experience in Reading, Math, and Science. Common core connections in both reading and math. Builds science knowledge that supports the Next Generation Science Standards. Ease and flexibility: integrates seamlessly into whole-class, small-group and individual implementation models. Empowers families to extend learning time into the home.

Components Designed to Help Kids Stay Engaged
Empowers families to extend learning time into the home to solidify reading skills.
Develops skills to meet Common Core State Standards for children Pre-K through grade 2 in literacy.
Digital pen provides unlimited potential for practice.
Integrates seamlessly into whole-class, small-group, and individual implementation models.
Supports English Language Learners through language learning and support for all families, regardless of reading level.

Digital Pen and Chip
Allow students to hear the words as they read and learn. Each set of readers has a corresponding chip. Batteries included!

Teaching Cards
Offer targeted, easy-to-use mini-lessons for the entire class or small groups.

Assessments
Utilize Progress Checks, Pre- and Post-tests to help inform progress and assess skills.

Headphones
Provide opportunities for individual listening.

Family Brochure
Provides essential family involvement to assist in building literacy skills at home.

Online Teacher Tools
Find useful, online resources to support teachers with additional program components.

Plastic Carrying Bag
Offers an easy way to transport items – whether it is across the classroom or home and back.

Student Readers
Offered in sets with 10 titles each.
Review Highlights:
This is a brilliant curriculum. It has got to be one of the best ELL and early reading programs on the market today. - Jim, K-12 teacher w/15+ years experience, MA
Everyday Learning Fun is a strategically designed K-2 reading, science and math curriculum that aims to develop academic skills of ELL students. This curriculum could work well for non-ELL students as well. Everyday Learning Fun: Reading prepares children with key skills for reading success. Phonological awareness, Phonics, Vocabulary, Comprehension, Fluency, Language development are all included in this fully comprehensive curriculum. Lesson plans are made easy with colorfully laminated cards that outline each lesson with simplicity and accuracy. Leveled skills are divided by color, not grade. Well illustrated stories can be found on the back of some of these cards for children to connect with text, make inferences, and retell the story. All strands of this complete curriculum are aligned with the Common Core to ensure student learning and success.
I really liked teaching my preschooler with these cards. It made my job so easy! He really like the pictures and it was easy for him to follow along with everything. The curriculum is very thorough and covers so many aspects of reading I didn't even know about.
Buy this product at:
As an Amazon Associate we earn from qualifying purchases.