Academics' Choice Award™ Winner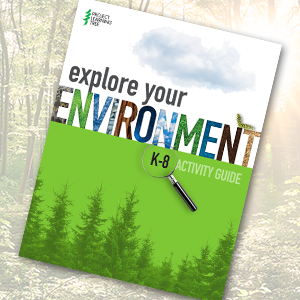 Explore Your Environment: K-8 Activity Guide
Ages: 5 - 13
Price: $34.99
Type: Book
By
Project Learning Tree
Description
Explore Your Environment offers real-world learning experiences to connect children to nature and to increase their awareness and knowledge about their environment. This cutting-edge resource includes 50 hands-on activities that bolster STEM learning, promote civic engagement, and help young people acquire the skills they'll need to be creative problem solvers. Every activity in the guide suggests ways to take student learning outside as well as career connections to further link learning to real-life experiences. Topics include trees and forests, wildlife, water, air, energy, waste, climate change, invasive species, community planning, urban forests, and more. The activities are designed to help students learn how to think—not what to think—and are suitable for use in schools, homeschools, and other education settings in both urban and rural environments.


Review Highlights:
Perfect timing for this book to be released! After sitting inside on Zoom for hundreds of hours, kids and adults alike need to get outside and learn! As a teacher with 20 years of experience, this book is one of a kind. The lessons are easy to follow, aligned with standards and offer great ways to differentiate instruction. Another strong reason I support this curriculum and approach is that it teaches more about how to think, not what to think. Buy this book, get out of the classroom, and give your students a chance to interact, explore and discover the world around them!
This 432 page book is a curriculum guide for teachers in grades K through 8, organized as groups for projects as K-2, 3-5, and 6-8. It provides between 13 and 20 projects for each age group with suggested modifications for either younger students or enrichment/older students. The organization of each project is similar, making it easy to use. On the first page of each project are listed: the academic subjects involved (ie, science English, Math...), the STEM skills (data analysis, investigation, organization...), differentiated instruction (hands-on, cooperation..), the materials needed, and the time considerations. Also listed are Student Objectives and Background information for students to know before starting the project. The activity is then described, in steps, with consideration given to various environments (urban, rural..). A Student Page for charting various aspects of the project is included. Each project ends with the Academic Standards for practices and concepts and suggestions for Assessments.
This book addresses what was once called "Nature Deficit Disorder." I've taught for many years in this manner and it is nice to see a condensed and well written book that will get kids outside and using their hands and bodies!
This book provides some sophisticated learning at each age group within the context of engaging activities. This is a book for teachers, not for use directly by students. Countless CC and NGSS skills are covered.
This book is well organized and provides a lot of guidance as to how to run the activities to be successful. New teachers should be able to follow the guidance while experienced teachers will find the variety of projects provides interesting and useful choices. The range of projects seems appropriate to the ages covered.
Buy this product at:
As an Amazon Associate we earn from qualifying purchases.