Academics' Choice Award™ Winner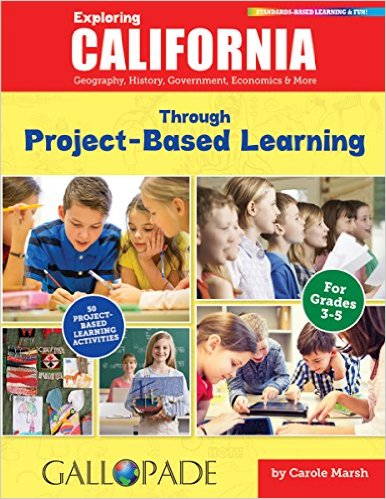 Exploring California Through Project-Based Learning
Ages: 8 - 11
Price: $9.99 each
Type: Book
By
Gallopade
Description
Includes 50 well-thought-out projects designed for grades 3 through 5. As students dig into California's geography, history, government, economy, current events and famous people, they will deepen their appreciation and understanding of California while improving their analytical skills and ability to recognize patterns and big-picture themes. Gallopade's Project-Based Learning books are available for all 50 states.




Review Highlights:
Lapbooks are a common way to incorporate many skills into one package. This book expands on this technique. I like the way that the book incorporates a variety of approaches to researching a topic and explaining it to the classroom or just for themselves. Some of the activities include writing, drawing, skits, speeches and more. I wish that I could have been given a few samples of the bigger kit so that I can see how the full system works, but even without the original resources I decided that this will be a valuable tool for my kids and I plan to buy the Pennsylvania books.
The instructions were easy to follow and pretty easy to adapt. There are some projects that would work better in a traditional setting rather than a homeschooling setting, but there are workarounds. As a parent I also like that you don't "need" the extras to get the work done. The materials required to complete projects are inexpensive and easily obtainable.
This is a good product that I would recommend to other parents.
Buy this product at:
As an Amazon Associate we earn from qualifying purchases.