Academics' Choice Award™ Winner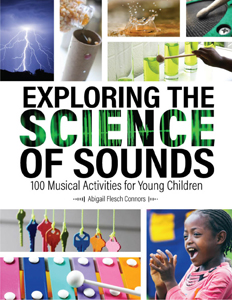 Exploring the Science of Sounds
Ages: 3 - 6 (for Adults)
Price: $16.95
Type: Book
By
Gryphon House, Inc.
Description
Most preschool teachers have musical instruments in their classrooms, but may not realize they can use them for science explorations.

Science, technology, engineering, arts, and math—STEAM—these explorations are crucial for laying a solid foundation for later learning. In this book, discover 100 activities that let children ages 3-6 explore the science of music and sound using materials easy to find for a preschool classroom. Children will use their bodies to create sounds, explore the relationship between size and pitch, investigate how tempo affects the way we listen to sounds, create musical instruments, and much more. From the drops of rainwater to the tinkling of wind chimes, the science of sound is all around.

You will indulge young children's curiosity and engage them in scientific inquiry as they explore, listen, observe, experiment, think, and discuss different kinds of sounds and the tools for making them. Through playful activities, explore:

Acoustics—what is sound?
Volume—loud and soft
Tempo—fast and slow
Timbre—sound quality
Pitch—high and low

Review Highlights:
As a teacher of nearly 20 years, musician, and music teacher for about ten years, I love this book! In particular, the author has brilliantly started with the sounds of the body. Then the book introduces movement of sound, quality of sound, elements of music, and finally creating your instruments. Little people need to start with what they know first, and things need to build from there. The activities are super easy to bring into class with little to no prep - which is key for any busy music teacher.
It'll be super easy to infuse some of these lessons into something a bit more complicated for my early elementary school students. Great book!
This unique, informative, and innovative book made me rethink the way I teach music to my kids. The activities are really fun, effective, and require little to no materials. I love the idea of teaching and developing scientific thinking through music, and using a child's natural scientific curiosity and our bodies as a way to teach musicality.
Buy this product at:
As an Amazon Associate we earn from qualifying purchases.