Academics' Choice Award™ Winner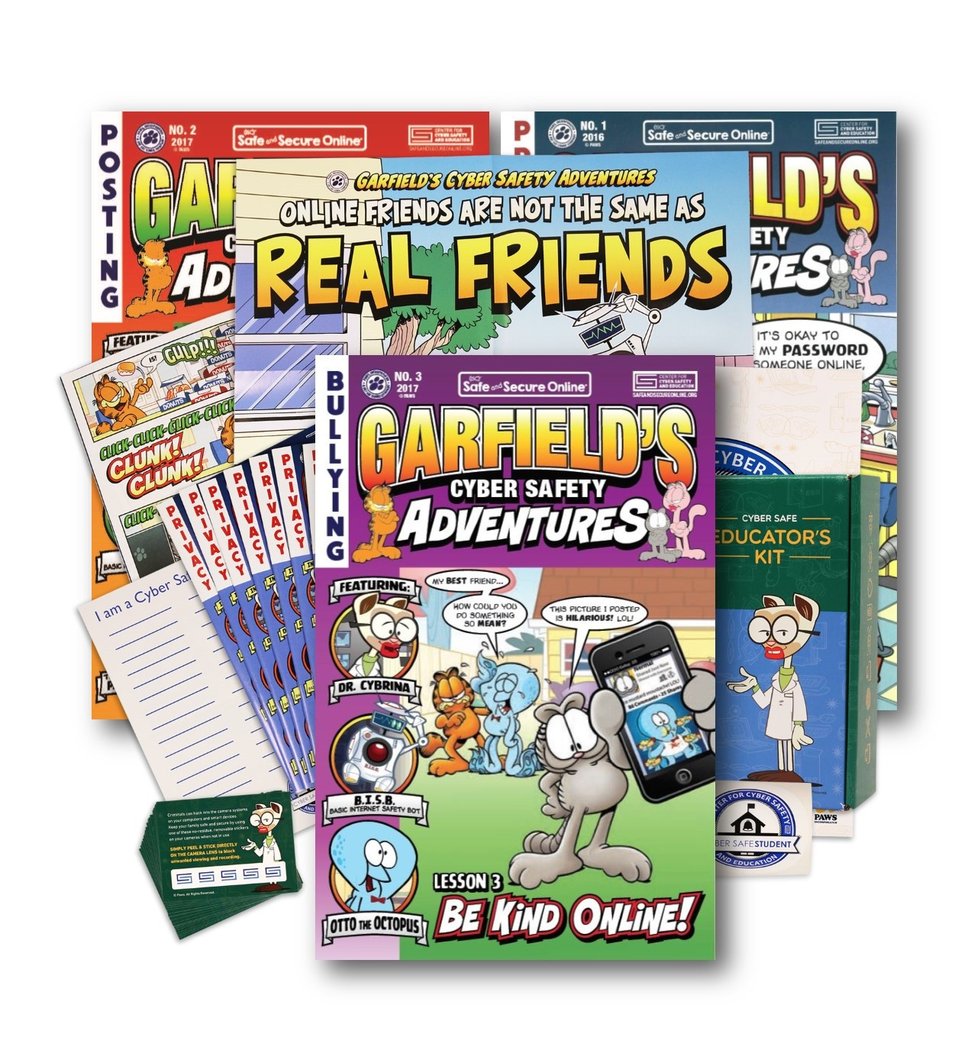 Garfield's Cyber Safety Adventures
Ages: 6 - 12
Price: $165.00
Type: Book, Game
By
Center for Cyber Safety and Education
Description
Garfield's Cyber Safety Adventures Educator's Kit is the Ultimate Toolkit for learning and retaining cyber safety in a fun and engaging group setting.

That's right! We said "The Ultimate." After countless reviews and feedback from educators they agree and say: "This was extremely appropriate in light of what is happening in the schools today. My students LOVED the videos and were readily answering questions." - 2019 Learning Magazine's Teachers Choice Award for the Classroom

The award-winning Garfield's Cyber Safety Adventures program is designed to engage elementary children and foster retention of core cyber safety lessons.

Each Educator Kit contains:
USB with Garfield Cartoon; Teacher Lesson Plan; Printable Handout Puzzles
30 Garfield Activity Comic Books
2 Posters (1 Large and 1 Pledge Poster)
30 Cyber Safe Student Stickers
30 Camera Privacy Sticker Cards
30 Garfield and Friends Trading Cards
1 Garfield and Friends Special Edition Trading Card - for you!
30 Letters for Parents

Review Highlights:
The Educator's Kit is an excellent resource for teaching young students cyber safety, social skills, social situations, awareness, reading, and critical thinking.
My kids love Garfield so they were drawn to this product immediately! This is a very important topic for kids of all ages! The product is very attractive, simple and easy to use. Despite it's ease of use and presentation, the message is very powerful for children. There is a very clear message of what statements are appropriate and which are not and why. The repetition and multiple activities really make it stick and allow the kids to process, evaluate and know more socially appropriate ways to have fun and show excitement and friendliness over the internet. This product is also good for kids who may not have access to social media or other internet sites because it reveals how uncomfortable or dangerous it may be if they do get involved and can prepare them for future use. This product teaches awareness of not only what they are saying online but how to prevent cyber bullying with great tips on how to avoid it. It teaches critical thinking--what am I really trying to say and does it sound like that with what I am typing? This product is very well done, very professional and helpful. There is a video to watch, posters to hang on the walls to remind the learners of the lesson, and trading cards and awards of completion. The parent letter for teachers to send home is a great explanation of what the kids learned and can open up great conversations for the family. The comic books are great for kids to review at home over and over as the story is fun to read. For teachers in classrooms, the work is all done for them. There are pre-scripted questions to ask, the USB has the video ready to load and show, and the posters add more color and attractiveness to their rooms.
My kids don't have access to the internet or social media but I am so glad I got the opportunity to have this in my home. It started great conversations about what is nice to say and what is not; how teasing and joking can be taken the wrong way. Social media is not the only place this kind of bullying takes place so I appreciate not only that this company is making this product available and timely for this generation, but that it stresses kindness. Brilliant, necessary and very timely. Thank you, Center for Cyber Safety.
The comic books are enjoyable and use real online instances of being safe on the internet that students can relate to in today's society. The swag for students that is included, (stickers, comic books, and trading cards) will entice students as they learn about being safe online.
Buy this product at:
As an Amazon Associate we earn from qualifying purchases.