Academics' Choice Award™ Winner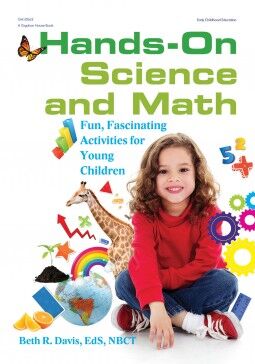 Hands-On Science and Math: Fun, Fascinating Activities for Young Children
Ages: 3 - 6
Price: $14.95
Type: Book
By
Gryphon House, Inc.
Description
The activities in "Hands-On Science and Math" help educators plan engaging STEM lessons that will excite children and foster their critical thinking. Designed to work with easy-to-find materials, the activities are inexpensive and uncomplicated, yet they lay the groundwork for more complex STEM concepts later on





Review Highlights:
This book encourages a tactile approach to Science and Math. It takes abstract principles and turns them into memorable and fun activities.
I like the way that the experiments/exercises are laid out in the book. The book is very colorful, the typeface is a comfortable one for adults as well as children who are new to reading. I really like the graphs that are included in the book for record-keeping during the experiments. It makes it so much easier on the parents to not have to create everything before beginning a lesson. I also liked the informational bubbles that modified experiments and exercises for children with sensory or other learning differences. For parents who are new to educating their children I think those notes are invaluable. They reinforce the understanding that learning is personal and just because, for example, your child doesn't want to touch a gooey substance, it doesn't mean that they aren't learning the lesson. Just go with the flow.
This is a book that I wish I'd had when my children were younger. As a homeschooler I was always reluctant to do science experiments because of the mess (I took them to the local museum that held classes), but these experiments are just right for my mess-o-meter. There's enough messy excitement for the kid to enjoy and just enough for me not to dread cleaning.
Buy this product at:
As an Amazon Associate we earn from qualifying purchases.