Academics' Choice Award™ Winner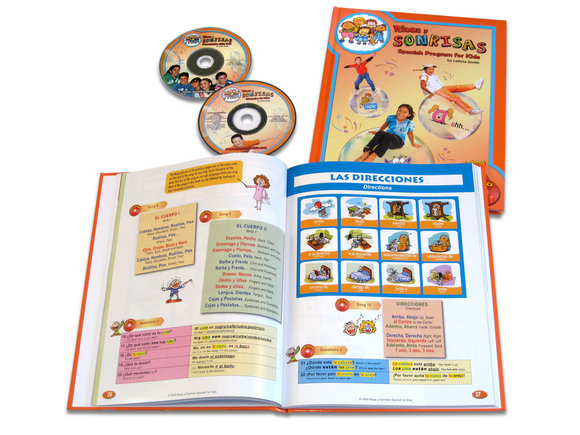 Homeschool Spanish Program for Kids
Ages: 5 - 11
Price: $175.00
Type: Book, DVD, Audio (Complete Homeschool Program)
By
Risas y Sonrisas Spanish for Kids
Description
Risas y Sonrisas' main goal is for children to have a positive and fun first experience with the Spanish language through powerful learning techniques, engaging activities, colorful visual aids and multimedia.

Risas y Sonrisas' multisensory approach is a key element to captivating the attention of children when practicing vocabulary, phrases and pronunciation skills.

Fluency in conversations is acquired naturally through practical Q&A's and a pictorial approach to forming sentences, instead of text and conjugation charts.

Program includes:
Student Book with Interactive CD + Skits DVD
4 Activity Workbooks
Music CD with Song Lyric Booklet
Sign & Sing DVD with Song Lyric Booklet
Flashcard/Domino Set
Cognate Picture Card Set with Folder and Audio CD
Homeschool Instructor Manual

Review Highlights:
This Spanish program has it all! To be honest I was a bit overwhelmed at first (as I've never taught Spanish before though I learned the language in college) but once I got everything organized and realized we could simply start on the first module and use the supporting songs, games, and DVDs as needed it became much easier. I'm a homeschooling mom and former elementary teacher so I recruited three students from our homeschool group as I realized the interactive skits and other games would be much more fun with more participants. Overall the program was very successful although we haven't completed the entire program - we've only been doing it for two months. The program involves music, games, listening to and watching native Spanish speakers, reading, writing, physical activity with skits and even drawing. I really liked how the program focused on conversational spanish, high-usage words and phrases, and started off with cognates-words that look similar and mean the same thing in both English and Spanish. It helped build confidence quickly.
Buy this product at:
As an Amazon Associate we earn from qualifying purchases.