Academics' Choice Award™ Winner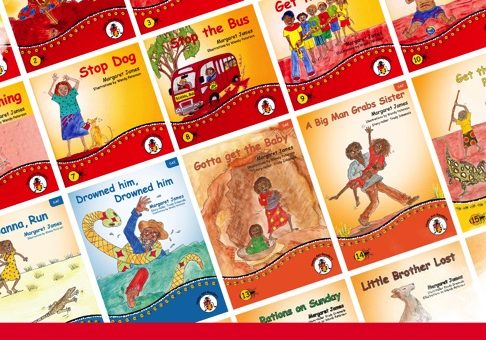 Honey Ant Readers learn-to-read books
Ages: 3 - 11
Price: $15.00
Type: Book
By
Honey Ant Readers
Description
The Honey Ant Readers are a highly innovative, ground-breaking, unique series of fun, colourful, learn to read books (and eBooks) with matching hard copy and digital activities, which are engaging Australian Aboriginal children from remote, non-English speaking communities. Written , developed and produced by Margaret James and illustrated by Wendy Paterson. By capturing the interest of the learners, and bridging the gap between school and home, they assist in overcoming some of the challenges these children face in learning print literacy and include mathematical concepts such as comparing and contrasting.

Underpinned by second language and literacy acquisition theories, phonics and, through studies of Indigenous languages, they take into account the difficulties Aboriginal children have in acquiring reading, English and comprehension. The content reflects Indigenous life and culture which engages the students, and boosts self-esteem, respect and confidence through taping into their knowledge.

The high quality, laminated books - which come in a beautiful bright red, decorated box - are also carefully structured to encourage progression and competence and are supplemented by cards and exciting games which make learning to read fun, relevant and successful. The books have been translated into 7 Aboriginal languages, and one of them into sign language, Auslan. Videos are supplied which assist adults in facilitating the learn-to-read process.


Review Highlights:
Honey Ant Readers are a beginning reading resource for teachers or support personnel interested in getting Aboriginal English speakers to read. The program contains materials (cards, songs, games, manipulatives, books) to support this goal. I love the research and cultural knowledge that went into these readers. There is a true desire on the part of the author to reach her audience. This is research-based method that has had great results for hard-to-reach students in Australia.
Margaret James has done a wonderful job bringing these stories to the Aboriginal youth in Australia! The Honey Ant Readers are a phonics (listening) based set of materials designed to teach speakers of Aboriginal English how to decode words and learn to read. This is a great program that incorporates both the phonetic differences between Aboriginal and Standard English but also culturally sensitive stories. As a Speech-Language Pathologist, this program warms my heart! I love that the readers are systematic and research-based.
Honey Ant Readers include manipulatives, flash cards, stickers, books, and songs/rhymes to teach reading content. The materials are colorful and seem most appealing to younger children (ages 5-8) but may be used with older students as well. The stories include not just relevant content for native speakers, but they use the grammar/ syntax (the ways words are put together) that is most familiar to these speakers, which makes these readers more approachable than "outside" resources for learning to read. Honey Ant Readers approach the challenges that Aboriginal English speakers face in carryover to home environments with these well-sized, high-interest books.
This is a product that serves a specific niche in the market for learning to read. Use outside of Australia may be limited. Continued product development may make it suitable for some other populations within different cultures as well.
Buy this product at:
As an Amazon Associate we earn from qualifying purchases.