Academics' Choice Award™ Winner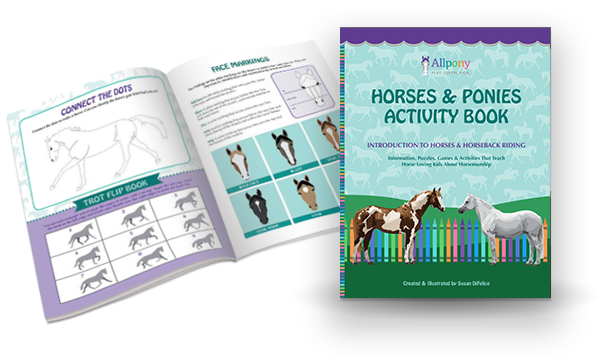 Horses & Ponies Activity Book: Introduction to Horses & Horseback Riding
Ages: 4 - 12
Price: $12.99
Type: Book, Game, Arts & Crafts
By
Allpony
Description
Learn More About Horses With Allpony. Allpony.com offers the Horses & Ponies Activity Book, Products, Free Games, Education & Fun for Horse Loving Kids.

Improve your horsemanship skills with puzzles, games, crafts & activities that instruct and entertain with the Horses & Ponies Activity Book. Learn about horse & pony markings, grooming tools, types of tack, breeds, gaits and riding sports — plus get safety tips for working around horses and ponies. A great gift for horse-loving kids!

Size: 8.5" x 11"
Pages: 40
Format: Paperback
Appropriate for ages 4-12


Review Highlights:
This book is about horses and ponies and there are many puzzles, games, and activities to help teach about them. There are crossword puzzles, mazes, matching games, coloring, identification lessons, measuring, drawing, and more. My daughter learned what the characteristics of horses and ponies and how to tell the difference, how to identify breed, the names of tack used to groom a horse or pony, the names of their movement, the difference between riding sports. She even used our knot tying kit to practice a "quick release knot", which is used to tie horses.
This book was fantastic. I was a horse lover as a child too, and I spent many afternoons and summers helping out at our local horse ranch, mucking out the barn, feeding the horses, and grooming them. My daughter hasn't had that fun experience yet, so she has taken to books to learn about horses. Usually we read non-fiction horse books and fictional vet books, so it was exciting for her to have an activity book all about horses. It was a great way to put what she has learned to the test. The book does a great job explaining the tack horses wear, what type of grooming tool to use, and how to identify breeds and types of riding sports. She loved the puzzles and mazes and activities. I enjoyed working through the activities with my daughter.
I wish the book was bigger! It's actually a great size, but by the end of the week we had run out of activities. We will certainly keep the book on hand for quick references, the art activities, and paper horse "dolls" and farm scene.
Buy this product at:
As an Amazon Associate we earn from qualifying purchases.