Academics' Choice Award™ Winner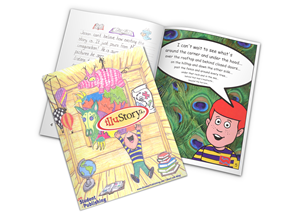 IlluStory A+
Ages: 8 - 12
Price: $29.95
Type: Book, Software, Website, Arts & Crafts
By
Easy Student Publishing
Description
Young authors create their own 18-page storybook that is professionally published. IlluStory A+ publishing kit includes manuscript pages, project ideas, a convenient carrying box and markers. A book can be created by-hand and completed pages sent through the mail, or it can be designed online with easy-to-use graphics and text tools. Shortly, authors receive their own published hardback storybook, with a special "About the Author" feature, back in the mail.
Review Highlights:
I wish the manufacturer would make one for older kids!
My daughter loved the idea of creating her own book. She is so proud of it. The print quality was fantastic--definitely built to last. The tips and activities included helped her get started and organize her thoughts. This was an excellent educational activity. I loved watching my daughter unleash her creative juices and work on her writing skills. The fact that a real, physical product would be published and printed pushed her to work really hard.
A version with more than 20 words per page would be helpful, but the current restriction did help my son write more concisely, which turned out to be great practice.
Buy this product at:
As an Amazon Associate we earn from qualifying purchases.