Academics' Choice Award™ Winner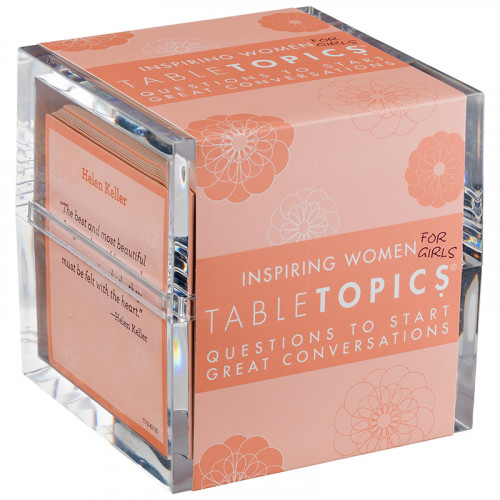 INSPIRING WOMEN for GIRLS
Ages: 8 and up
Price: $25.00
Type: Book, Cards
By
Ultra PRO International
Description
This second edition of Inspiring Women encourages girls to dream bigger.

The 125 women and girls profiled are astronauts and adventurers, athletes, writers, directors, doctors, and scientists; the courageous and curious, from nearly every continent on the planet, from the past and present. We've combined conversation starter questions girls will love to talk about with stories and quotes from some pretty amazing role models that are sure to fuel meaningful conversations.

Be inspired by Anne Frank, Cori "Coco" Gauff, Coretta Scott King, Eleanor Roosevelt, Emily Dickinson, Georgia O'Keeffe, Greta Thunberg, Liz Wallace & Mallory Holtzman, Jane Goodall, Jackie Joyner-Kersee, Mae Jemison, Malala Yousafzai, Ruth Bader Ginsburg, Tracy Chou, Taylor Swift, and many more.

Ages 8 and up 135 question cards 4" x 4" x 4" acrylic cube


Review Highlights:
I gifted this to my nieces for their birthdays this year and it has been the perfect way to bond with them. My two nieces exhibit leadership and entrepreneurial skills, such as starting their own jewelry business and volunteering at our local animal shelters, and Inspiring Women for Girls has ignited their passions even more so. It's full of purposeful questions that has them thinking about their futures and what kind of person they aspire to be. Each card has a question on one side, invoking deep and meaningful conversations between the girls, and on the other side reveals an inspiring figure's story and often a quote by powerful women in history, from Anne Frank, Greta Thunberg, Malala Yousafzai, and many more. I love that they are curious about these women, and have amazing role models to look up to and learn about.
These tabletopics promote powerful reflective learning experiences and conversations about history and science, personal goals, perseverance, and much more. Social/emotional skills are developed as well as reading and comprehension.
I love the variety of topics within this card set. We learned so much as we read each card (about the woman, her achievements, the era lived, the location in world) and then feeling inspired, we often explored more about the topic itself. This was a wonderful way, every time, to learn about amazing, inspiring women all over the world, through the many years! Great opportunity to learn something new, to find new interests, and to explore as well.
This was awesome. Great for short, simple, and meaningful together time.
Buy this product at:
As an Amazon Associate we earn from qualifying purchases.