Academics' Choice Award™ Winner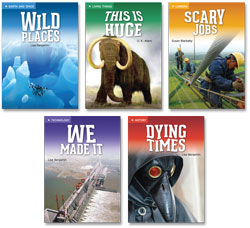 It's All True!
Ages: 9 - 14+
Price: $78.00 (includes 15 titles)
Type: Book
By
High Noon Books
Description
This high-interest nonfiction series includes reading experiences in five content areas: Life Science, Earth and Space Science, History/Social Studies, Technology, and Careers. It introduces grades 4-8 content area vocabulary in a medium that struggling readers can master. Core vocabulary words are highlighted within the text and are also listed at the end of each book. Pictures and maps throughout each chapter add interest and support the text. Three reading levels with the same content areas at each level allow students to "Read Up" in each content area.


Review Highlights:
High Noon Books' new series It's All True! is excellent! The material is engaging but unlike most 'early readers' or 'easy-to-read' titles, the authors do not dumb down the action or the vocabulary. They include a glossary. Each book is just the right size, easily held in an older child's hands. The text is clearly written, the font is a great size and headings in bold type are included for simple organization of the material. ~Jessica Allen, M.Ed. (Blogger, Cattails & Cobwebs)
Buy this product at:
As an Amazon Associate we earn from qualifying purchases.