Academics' Choice Award™ Winner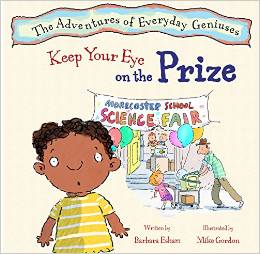 Keep Your Eye on the Prize
Ages: 5 and up
Price: $9.95 each
Type: Book
By
Mainstream Connections Publishing
Description
In Keep Your Eye on the Prize, Barbara Esham deftly deals with what can be a difficult subject for students or teachers to broach. How do you help parents understand when the help they're giving is too much? Dylan, the main character in this book, has experienced the same issue, yet is able to achieve success in the school science fair with minimal help from outside. More importantly, because he feels ownership of his work, and has developed a true interest in the topic, he learns much more than if mom or dad had fixed every error or polished every rough edge. This book is as valuable for parents and teachers as it is for young people, and is a great way to help everyone understand how to give just the right amount of assistance.


Review Highlights:
Dylan cooper is an elementary school aged student assigned to be in a science fair and feeling overwhelmed by looking at others projects. All of his friends let their parents lead the way while Dylan was determined to do his project on his own. Although Dylan's project may not have been as exciting or looked as nice as the others, he ends up winning first place in Dr. Swarthmore's Science Fair. Barbara Esham's, "Keep Your Eye on the Prize," explores and educates us on the importance of process over product and the significance of interest and meaning within in a learning environment. She implicitly suggests to parents and teachers alike that to really learn, one must be okay with making mistakes and be focused on the discovery of a particular topic more than than final outcome. She supports this with a quote from Edison: "I find my greatest pleasure, and so my reward, in the work that precedes what the world calls success." - Rob, California elementary school teacher with 17 years experience and M.A.
Buy this product at:
As an Amazon Associate we earn from qualifying purchases.