Academics' Choice Award™ Winner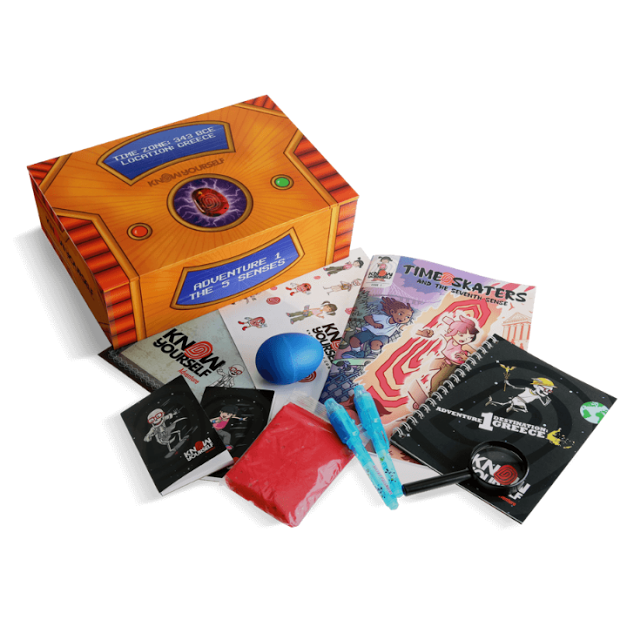 The Know Yourself Adventure Series
Ages: 5 - 7: side by side learning / 8 - 12 independent learning
Price: $35 each (12 issues)
Type: Book
By
Know Yourself
Description
The Know Yourself Adventure Series use collaborative, hands-on and STEAM-based activities to explore the systems of the human body. Each Adventure set is anchored by an educational comic book highlighting anatomy and history. It also contains tools, and other cool materials for experiments and games that will introduce kids to foundational learning about their bodies in a exciting, fun and memorable way.

These are the twelve systems and locations we'll explore on each Adventure:
1. The Five Senses - Ancient Greece
2. The Skeletal System - 1922 Russia
3. The Circulatory System - 1553 China
4. The Renal System - Ancient Assyria
5. The Digestive System - Feudal Japan
6. The Immune System - King Arthur's England
7. The Muscle System - Napoleon's France
8. The Endocrine System - 1954 Cuba
9. The Respiratory System - Futuristic Kenya
10. The Lymphatic System - Ancient Aztecs
11. The Nervous System - WWII Navajo Code Talkers. Ocean Side, CA
12. The Integumentary System - 1960 Oakland



Review Highlights:
The Know Yourself Adventures Series is wonderfully cross-curricular, allowing students to practice science, social studies, multi-cultural studies, geography, arts, cooking, reading, and writing. Students learn through investigation and experimentation, allowing them to hone their observation and research skills. As students read through the comic book and activity guide, they have the opportunity to not only practice reading and fluency, but to work on comprehension.
The kit is high-interest and engaging - keeping kids motivated, interested, and learning throughout. The program is incredibly easy to implement and flexible in nature, allowing homeschooling parents to seamlessly integrate it into existing curriculum, or a parent to use the product after school or on weekends with ease. I love the cross-curricular nature of the product. As a teacher turned homeschooling parent, I am always on the lookout for products that allow my kids to work on multiple subjects at the same time. The integrated nature of the product not only keeps interest high, but allows my kids to deepen their understanding of the content. I appreciate that the curriculum is pre-planned, inclusive, and comes with a suggested schedule. This is a busy parent or busy teacher's dream. My kids get all the benefits of a thoroughly and thoughtfully planned curriculum without any effort from me.
The hands-on and exploratory nature of the product is SO refreshing! As an educator, I've never been a big believer in workbooks/worksheets, and love finding products that help kids learn outside of the box - through play, investigation, and tactile experiences. It is refreshing to find a company so dedicated to presenting information in ways that appeal to young learners. Kids so often get bogged down by "traditional" methods and activities and either stop paying attention or miss out on the JOY of learning. The Know Yourself Adventure Series puts the fun back in learning.
This is truly a learning experience that is fun for the whole family. As a blogger, I review LOTS of educational products, and this is truly one of the best I've ever seen. This is a fantastic product that I highly recommend.
Buy this product at:
As an Amazon Associate we earn from qualifying purchases.