Academics' Choice Award™ Winner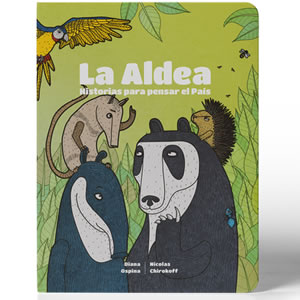 La Aldea: Historias para pensar el Pais
Ages: 7 - 12
Price: $18.99 USD (65000 COP)
Type: Book, Video
By
Clickarte / El Espectador / Colombia2020
Description
La Aldea is a multi-platform pedagogical strategy whose purpose is to train children between 7 and 12 in citizenship and socio-emotional skills. In this learning universe, based on stories of a group of animals living together and facing situations which are metaphors of real life, children have fun while reflecting on the world that surrounds them.

This pedagogical material, which includes booklets, hessian teddies and videos, allows children to make a parallel between what it is happening in La Aldea, their daily life, and more broadly, their community and country.

Consequently, the stories and characters of La Aldea become a springboard for children to strengthen their skills of empathy, conflict resolution, decision-making and emotion management. In addition, it is a strategy that allows to bring them closer to the news of the country, by making them reflect on issues that include public goods, corruption, elections, social integration and the health system, among others.

La Aldea is currently being used by over 28,000 students across Colombia and Mexico and has been selected by UNICEF as its strategy for refugee and migrant education in schools near the Venezuelan border.

Note: the book and materials are currently only available in Spanish.
Review Highlights:
La Aldea ("the village") is a carefully crafted story and multisensory curriculum designed to encourage discussion of social conflicts and interrelationships in a relatable way that serves as a metaphor for real-life problems. Inspired by the book "Animal Farm," each animal character is well-developed with a unique perspective and skillset. The story is designed to promote empathy, critical thinking, and explore multiple points of view while comparing the narratives to ones own community.
Each Chapter showcased differences in thinking, teamwork, skills and adaptability of each member within the community, and how we can relate to our own communities, families and friends. Illustrations inside the book were cute yet accurate and supported the story. Some of the vocabulary was purposefully challenging, but overall grade/reading level appropriate. The accompanying booklets that correspond to each chapter and character helped reinforce concepts learned and encouraged analyzing, comparing, writing, drawing, imagination, and investigating the motives of the characters.
Good use of story telling and activities to allow children to think, imagine, and apply skill sets to create a harmonious and thriving community for themselves and those around them. Hand puppets of each animal were included with the materials although our students were engaged without them.
We hope this book and program will be translated into English and other languages. The stories and lessons transcend borders.
Buy this product at:
As an Amazon Associate we earn from qualifying purchases.