Academics' Choice Award™ Winner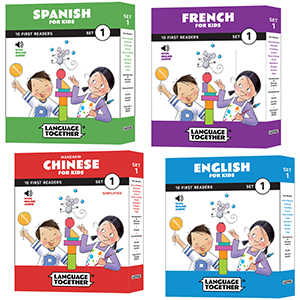 Language Together Set 1
Ages: 3 - 8
Price: $25.00
Type: Book
By
Language Together
Description
Language Together Set 1 is a box set of 10 first readers for children ages 3 to 8 who are beginning to learn a new language. The set is available in Spanish, French, Mandarin Chinese (Simplified and Traditional editions), and English. Each set includes access to the online audio narration by a native speaker.




Review Highlights:
Spanish For Kids Set 1 introduces Spanish vocabulary and pre-reading skills to young children who are just beginning to learn Spanish. Students also practice listening, identifying colors, and social skills.
I loved that there was only one sentence per page and that the word/phrase being learned on that page was color coded to match the otherwise black-and-white picture. This really helps children make the connection between the word/phrase being learned and the part of the picture they should focus on.
I also appreciated the fact that you could access an audio version of each story online. This insures that the teacher/parent knows how to pronounce everything properly. Anyone could teach these courses, even someone that has never tried to learn Spanish in the past.
Our family loves this product! We can't think of anything that we disliked about it.
I was super-excited to receive these books to review because our family started studying Spanish together a few months ago. These inexpensive book sets include a lot of the basic words and phrases that are included in any level one Spanish curriculum. They also teach the language in many different ways, so a child can learn visually, verbally, or kinesthetically. I have two daughters with Dyslexia that love using these books. Each of my six daughters learns a little differently from the other, so this works great for them! My 15 year-old daughter can even use these books to help her younger sisters learn, while providing review and reinforcement for her. It is really nice to have both Sets 1 & 2 as it offers you the opportunity to focus not only on basic words and expressions, but also on parts of speech and abstract concepts (feelings, skills, hopes, and dreams). These really are wonderful book sets for anyone teaching their children Spanish!
Buy this product at:
As an Amazon Associate we earn from qualifying purchases.