Academics' Choice Award™ Winner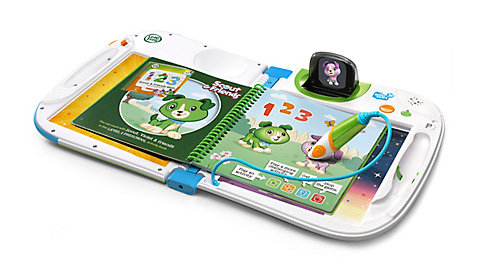 LeapStart® 3D Learning System
Ages: 2 - 7
Price: $49.99
Type: Book, Electronics
By
LeapFrog
Description
Experience the magic of the LeapStart® 3D Interactive Learning System and get kids excited about learning with 3D-like animations that magically bring the activities to life. Perfect for visual or auditory learners, the touch and talk activities enhance learning with interactive animations to help kids build math, reading, problem-solving skills and more. The LeapStart® library of 25+ books (each sold separately) covers a variety of preschool through first grade subjects for 2-7 year olds with more than 30 activities in every book. Many replayable activities have two levels with 50+ key skills per grade level, so kids can play and learn at the level and move up when they're ready. A total of 400+ activities across the LeapStart® library help kids build tomorrow's skills today. Licensed books include LeapStart Pixar Math in Action with Listening Skills, LeapStart 3D Mickey and the Roadster Racers Pit Crews to the Rescue, LeapStart 3D Disney Princess Shine with Vocabulary and more! ($7.99 each)


Review Highlights:
The LeapStart® 3D Interactive Learning System teaches early fundamentals (letters, colors, creativity, shapes), early key skills (phonics, writing, counting), school skills (reading, math), and builds a love of reading.
When I first opened up the 3D LeapStart device, I was immediately impressed with it's packaging. Easy to get into - which is great when you have an antsy three year old at your knees - but very secure. The device itself is very sturdy; it is easily able to handle the wear and tear of toddlers on the go. It also has a very sleek design which makes it easy to wipe down from sticky fingers. It is set up like a small laptop or briefcase (plus a carrying handle which pops up and out when the device is closed). The attached stylus that Brayden, my nephew, used to point to numbers, shapes, words, and pictures is very securely attached. I have used multiple Leap Frog products over the past fifteen years and have never had one break down on me.
My favorite part about the 3D LeapStart is that it can grow with the child. This is a device that will last many many years. Although my nephew really likes the books geared towards 2 - 5 year olds now, there are books that he can use on the 3D LeapStart that will take him into the early elementary grade years. In addition, he can enjoy storybooks, activity books, and learning to read books. I also like that the 3D Leap Start itself has action buttons on the inside "covers" so that even if you find yourself without a LeapStart book, you are not left with a purposeless device.
The look of joy on the face of my nephew Brayden as he sat down to "read" his first book on his own cannot be described with words. The animations, though not true 3D, are still super cute, and it was adorable to watch Brayden talk to them as though they were real. I got lots of hugs and love as thank yous whenever he was able to pull himself away from his new present!
Within the sampler book that comes with the 3D LeapStart, instructions are provided about how to download audio from LeapFrog Connect. It's helpful if the parent (or in my case, me as the aunt) is able to sit down with the child the first time that they use it to explain to them the different features that exist within the 3D LeapStart device. Not all pictures will provide an animation, but the child will quickly learn which ones do and which ones do not. Different symbols are on the pages to alert the child as to what actions can take place on different pages. For example, if the child sees a green star, they learn that there is an activity that they can play on that page. A purple book icon indicates that the page can be read to them, and a yellow arrow is a request to have the entire book read out-loud. These are the same symbols used throughout the many different book options, so once the child learns how to use one book, that knowledge should be transferable to other books.
The LeapStart 3D Learning System has a nice, hard shell that toddlers can't break easily. My older kids loved the 3D portion of it. My favorite thing about it is that we can take it with us in the car and keep our toddler busy. He is learning the alphabet so he loves the ABC book. He also likes that there is a piano and other musical instruments available to play on the device. He's still getting used to how to use the pen, but it's easy enough to learn how to use it. His older siblings have been helping him use it. I love that although it's technology, it has been helping the kids bond and teaching our toddler sharing skills. They don't usually like to read to him, but they have been helping him read the books.
The LeapStart 3D Learning System is fantastic, but it only comes with the sample book, which makes it limiting in its use unless you plan to invest in the books. We had to purchase some of the other books to explore the product more and we have enjoyed it. The sample book was limited in skills, but it introduces you to how to use the LeapStart 3D Learning System. The Learning System also has games and music on the inside of the device that you can use without the book. After purchasing other books for the device, he has been able to work on his alphabet and numbers. There is a wide range of subjects in the available books: reading, math, science, social studies, etc.
Buy this product at:
As an Amazon Associate we earn from qualifying purchases.