Academics' Choice Award™ Winner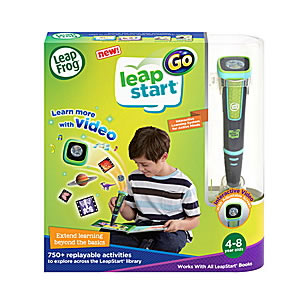 LeapStart® Go
Ages: 4 - 8
Price: $49.99
Type: Book, Electronics, Gear & Equipment
By
LeapFrog
Description
Go beyond the basics with the new LeapStart® Go interactive learning system. This sleek, easy-to-carry stylus brings compatible books and activity sets to life and uses video to provide a deeper learning experience with select LeapStart® books and activity sets. Video makes complex content easy to understand and helps kids extend their learning beyond basic skills such as letters and numbers. LeapStart® Go also works with the full LeapStart® library of 25+ books (sold separately) that cover a variety of preschool through first grade subjects, plus new activity sets designed specifically for LeapStart® Go. These new sets teach more advanced, multi-curricular subjects, and use extra learning tools such as interactive charts and stickers to supplement the material in the books.


Review Highlights:
I liked that the stylus would read the book and let the kids do challenge games. My kids practiced reading, fluency, hand-eye coordination, listening, memorizing, sharing, and learned lots of science facts about space and the human body.
The options for learning are only limited by the pack you have. This product is unique, and gives kids control of exploring a learning environment. It was well received by my 11 year-old, all the way down to my 4 year-old!
LeapStart Go does not disappoint. Starting with the sounds and graphics, there is nothing annoying about this product, only a beautiful display that is enticing to the eyes and ears. There is laughter, joy, encouragement, music, songs, and lots and lots of learning. There are so many facts in the short clips, phrases, and songs. The video part of the product is not overdone--there are only a few videos, so the learner focuses more on the page and the pictures.
Additional books to work with include the Human Body, which we received with this product. My 8 and 9 year olds play with this one book daily and can't get enough of it. And they have learned so much! They quiz me about the body parts and how they work! In addition, there are quizzes to test the students learning and listening skills. LeapStart Go is great for use in the car as an alternative to watching movies or using mom's phone apps. Plus, it has volume control and a headphone plug to keep from disturbing others.
I really love this product and would recommend it to any family. LeapFrog products are so educational and FUN.
Buy this product at:
As an Amazon Associate we earn from qualifying purchases.