Academics' Choice Award™ Winner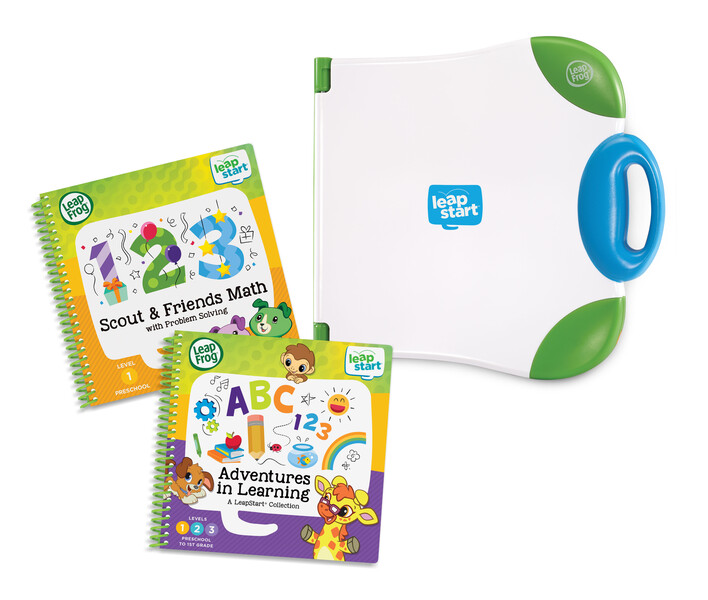 LeapStart® Preschool Success
Ages: 2 - 7
Price: $39.99
Type: Book, Electronics, Toy, Audio, Game
By
LeapFrog
Description
Experience the magic of the LeapStart® Preschool Success interactive learning system. This system grows with your child and gets them excited about learning with interactive touch-and-talk pages. Touch-and-talk activities that include games, puzzles and creative challenges enhance learning to help kids build math, reading, problem-solving skills and more. Scout & Friends Math With Problem-Solving and an additional activity book are included. The expansive LeapStart® library of books (sold separately) covers a variety of preschool through first grade subjects for 2-7 year olds with more than 30 activities in every book. Many replayable activities have two levels with 50+ key skills per grade level, so kids can play and learn at the right level and move up when they're ready. Included books are preloaded. The easy-to-hold stylus is comfortable for kids of all ages and promotes proper writing grip. A computer with an internet connection is required to download additional books onto the LeapStart® system.


Review Highlights:
Awesome educational product! This is by far my kids' favorite LeapFrog game.
This was a great gift to my niece who just turned three. The LeapStart® Preschool Success from LeapFrog is designed for active learning and comes with two books to start. There are over twenty-five books for preschool through first grade to purchase, so I can add to her collection as she grows with the material and enters school. Her mom was happy this gift would be one that kept on giving and not just a toy that she uses once and gets bored of. It's easy to use and is a great way for her and I to bond when I visit. My niece loves its captivating touch-and-talk games, and is always learning through puzzles, challenges, math problems and more!
I love the skills practiced in this product and the variety of different "books" that can be used with this LeapFrog tablet. The different games are educational and very engaging for all of my kids from almost 3 years old to 7 years old. Skills practiced or learned were numbers, letters, shapes, fine motor, early reading skills, math skills, following directions, listening, problem-solving and color recognition.
I liked this product because it was easy to use for all my kids. It helps a wide range of ages which makes it a toy that can be used for a long time. I like that you have the option to buy more books to practice more skills. It was nice that it came with two books and the two books really hit a lot of different skills. I would totally recommend this to anyone with a toddler to preschooler. Each skill practiced is vital for kids entering kindergarten.
Buy this product at:
As an Amazon Associate we earn from qualifying purchases.