Academics' Choice Award™ Winner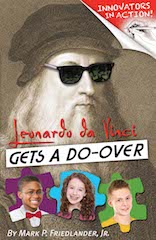 Leonardo da Vinci Gets A Do-Over
Ages: 10 - 14
Price: $12.95
Type: Book
By
Science, Naturally!
Description
In this fun and inventive adventure, Leonardo finds out, on his death bed, that his birth was a mistake… because the technology of his day was not commensurate with his genius. He is granted a do-over, but it comes with one condition—he must do something brilliant (no pressure!). As you can imagine, when he appears in Florence, in the year 2000, he has a lot of catching up to do! An extensive Teacher's Guide, available for free download, expands and extends the content. An entertaining and engaging way to introduce middle grade kids to an amazing man, great discoveries and modern science and math.
Review Highlights:
I like that the book brings to life a historical figure that kids may not know much about. The premise of the story is an interesting one. My favorite thing is the accompanying teacher's guide. This is an incredible resource with so many suggested activities for each chapter. There are activities that include many curriculum areas and that include a variety of learning styles- auditory, visual, and hands on.
This product is a reading book that incorporates history and science in regards to Leonardo da Vinci. It has a FREE downloadable teacher's guide to further expand on the concepts and put the lessons into action. Children learn critical thinking, comprehension, analysis, creativity, discussion, reading.
Overall, I really like the way that the Science! Naturally books introduce kids to different academic concepts. And I love the accompanying teacher's guide. The book is a good one to share with kids - especially reading it aloud and using the teacher's guide.
I think historical fiction books are a great way to learn history and science, my son loves to read and this is a great book for him! The FREE teacher's guide is a great bonus!
Buy this product at:
As an Amazon Associate we earn from qualifying purchases.