Academics' Choice Award™ Winner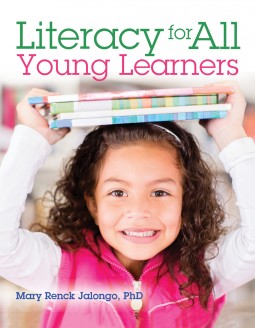 Literacy for All Young Learners
Ages: 16 and up (Adults)
Price: $29.95
Type: Book
By
Gryphon House, Inc.
Description
In Literacy for All Young Learners, Mary Jalongo, PhD, offers 65 strategies to support literacy learning with children from preschool through the third grade. With specific suggestions for ELL students, Jalongo includes recommendations for hundreds of great children's books, websites, and apps to make teaching easier. Each strategy is designed to be simple to use with all of the children in your classroom—from the not-yet-readers to the fluent readers—and each strategy is tied to the Common Core State Standards for kindergarten through third grade. Downloadable digital content includes sample parent letters in English and Spanish, extra book-based activities, and technology supports.

Review Highlights:
This is a resource designed for educators in a small group or traditional classroom, dealing with English Language Learners. The suggestions and plans are generic enough for broad use. Rationale and correlations to common core standards are provided. Literacy, particularly early literacy, is the focus of this book, with most suggestions readily applying to K-1st grade. Phonemic awareness, print awareness, rhyming, vocabulary, narrative skills, and alphabet knowledge stand out in most of the strategies.
I liked how the book reinforced basic skills for teaching and applied these to ELL students. The book was very accessible for short reading of a suggestion a day and didn't appear to have a rigid program of instruction that would interfere with programs already in place in a school setting. I appreciated the standards for each suggestion being listed out, as administrators often want these in lesson plans. I have owned other Gryphon House books that seem to follow a template similar to this one, which makes it predictable and easy to use.
The Literacy for All Young Learners (Gryphon House, 2015) is a 272 page paperback book (8.5"X11") written by Mary Renck Jalongo, Ph.D. The book is designed for use by classroom teachers, with particular emphasis on teachers of diverse-language students, or English language learners (ELL students). Teachers of students from pre-K to 3rd (remedial possibly higher) seem to be the target group. Teachers who are new to literacy or teaching in general may benefit, however, Literacy coaches, small group instructors in reading, and speech-language pathologists could use this book easiest.
I was impressed that most of the book recommendations were from at least the past 15 years (which makes them easier to find in libraries). Overall, the organization of the book is nicely done and will serve as a reference guide during lesson planning.
Buy this product at:
As an Amazon Associate we earn from qualifying purchases.