Academics' Choice Award™ Winner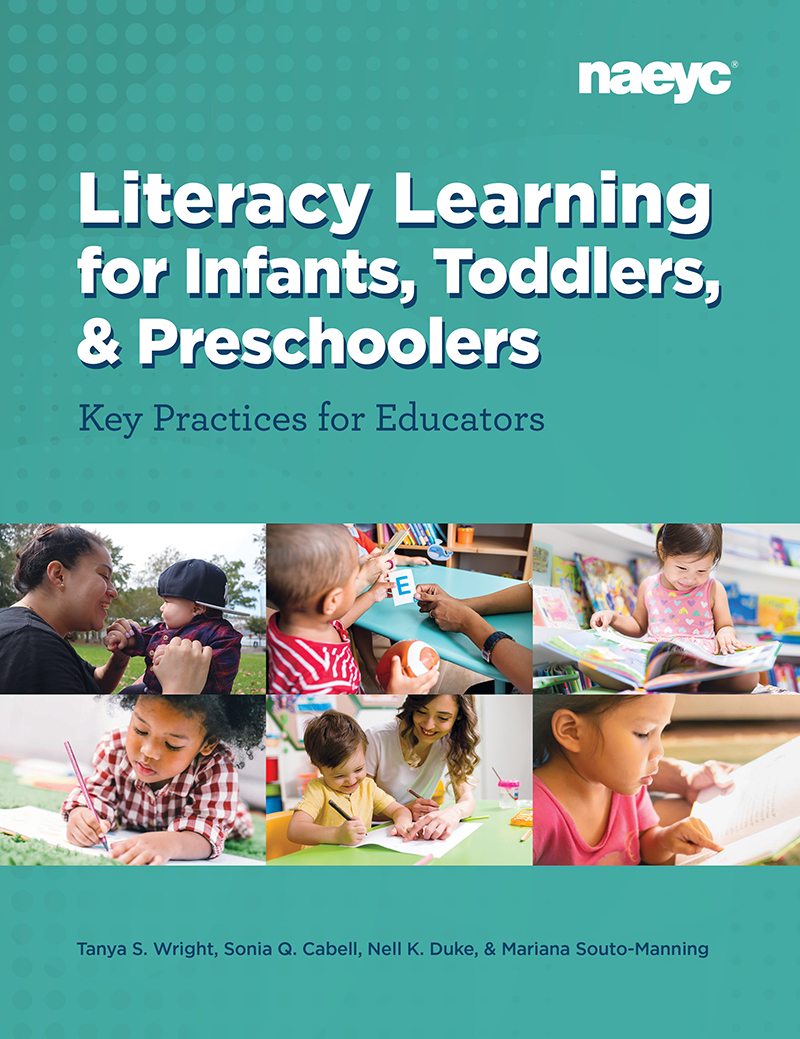 Literacy Learning for Infants, Toddlers, and Preschoolers: Key Practices for Educators
Ages: 0 - 5
Price: $30.00
Type: Book
By
National Association for the Education of Young Children (NAEYC)
Description
Birth to age 5 is a critical period in building the foundation for later success in reading and writing. Educators play a vital role in nurturing young children's early language and literacy knowledge and skills. However, the specific practices that support literacy development in early childhood are often different than those used with older children.

From some of the foremost early literacy development experts in the field comes this practical resource that is a must-have for all educators of infants, toddlers, and preschoolers. Using eight key practices - Knowing, Showing, Designing, Including, Engaging, Explaining, Observing, and Responding - as the framework, the authors discuss how educators can support five important areas of young children's early literacy development:

- Language and knowledge
- Print concepts
- Sounds and letters
- Writing
- Text comprehension

A range of features highlights information about these areas and practices, including the latest research findings, recommended resources, tips for integrating technology into play and learning, and more.

With this book, explore how to create effective, appropriate, and fun learning opportunities for our littlest literacy learners.


Review Highlights:
Literacy Learning for Infants, Toddlers and Preschoolers produced by NAEYC is a wonderful resource for any educator, parent, service provider, or caregiver for the youngest learners. The book has a wonderful structure in its introduction to literacy concepts. The book is chock-full of real-world examples of the skills to look for and how to present reading, writing, and comprehension skills to little ones.
As a Speech-Language Pathologist working in an early childhood setting, I am excited to see such a great resource emphasizing the importance of oral language skills and comprehension as foundational to reading, writing, speaking, and listening. NAEYC has done an excellent job condensing these most-important literacy skills into a volume that is easy to digest and has ready-to-implement ideas in and out of a classroom.
Supporting the learning of educators in this area is important for the academic success of students, but also the learning of the whole child. Language and comprehension are emphasized throughout the book and there is a real effort to keep the information relevant and developmentally appropriate for the students. I would wholeheartedly recommend this text to colleagues and parents, particularly with parents looking for information on how to build language and early literacy skills.
I love the content! Literacy skills are a passion of mine and having a resource to specifically target reading and writing for toddlers and preschoolers is exciting.
The National Association for the Education of Young Children (NAEYC) is a professional organization that is dedicated to promoting high-quality early childhood education. NAEYC works to improve the quality of early childhood education by setting standards for professional development, providing resources and support to educators, and advocating for policies that benefit young children and their families. One of the great things about NAEYC is that it offers a wide range of resources for early childhood educators, including professional development opportunities, research-based best practices, and access to a network of like-minded professionals. The organization also offers accreditation for early childhood programs, which helps parents to identify high-quality programs for their children.
The following skills were practiced throughout the Literacy Learning NAEYC title: learning standards for preschool, listening/ speaking, writing, literacy, critical thinking, motor skills, cognitive skills, and more.
Buy this product at:
As an Amazon Associate we earn from qualifying purchases.