Academics' Choice Award™ Winner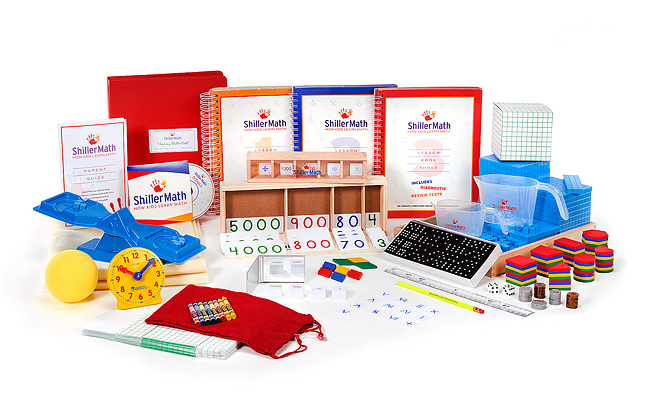 Math Kit I
Ages: 4 - 8
Price: $349.95
Type: Book, Audio, Gear & Equipment
By
Shiller Math: How Kids Learn
Description
Award-winning ShillerMath is an open-and-go, zero lesson prep, Montessori based math curriculum. No Montessori or math knowledge is required - just read (or have your child read) the scripted lessons, and you're good to go! With ShillerMath's multi-sensory approach, all concepts are covered using the visual, tactile, auditory, and kinethetic learning styles. Spiral-bound color books, a wide variety of Montessori-based math manipulatives, and corny math songs ensure kids learn - and love - math. Comprehensive, diagnostic testing makes it easy to find and fill gaps in your child's math foundation.

ShillerMath Kit I is for children ages 4 to 8. Kit I includes everything you need from pre-k through 3rd grade, as well as free downloads of replacement consumables, so one kit works for the whole familiy. School and co-op download licenses are available.


Review Highlights:
This is an extremely comprehensive math curriculum that explores multiple mathematical concepts. Children develop a foundational understanding of how and why numbers work together, develop problem-solving and critical thinking skills, and practice working with numbers in a multiple ways.
The included manipulatives and math tools are phenomenal. This is the most comprehensive set of learning tools I've ever seen in one kit. The wooden decimal tray is an absolute gem. Each of the manipulatives is purposeful, intentional, engaging, and designed to help children learn math in a conceptual and hands-on way.
I love the way the program stresses conceptualization. I think I would have enjoyed math as a student if I had understood how and why numbers work together at a foundational level. This curriculum helps children understand the how and the why early on (equally impressive!), so that later on, the student can perform the functions and equations with a clear knowledge of what each number means/does.
When my daughter was in public school, her daily math work consisted of about 20 math worksheets. She hated it. I love that ShillerMath does not rely on worksheets or pencil/paper activities to teach children math. I love that they explore it in many different ways.
I'm not sure how I'd never heard of ShillerMath before this review opportunity! The Pacific NW is lacking in Montessori advocates! We are too far into Saxon to turn around now, but I would have given ShillerMath serious consideration if I had known about it when we began our homeschooling journey.
Buy this product at:
As an Amazon Associate we earn from qualifying purchases.