Academics' Choice Award™ Winner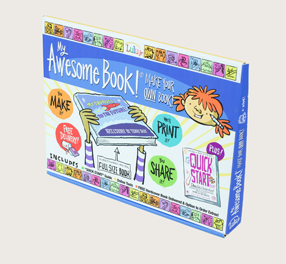 My Awesome Book
Ages: 6 and up
Price: $39.99
Type: Book
By
Lulu
Description
Our book series models how to learn from and interact with others while encouraging acceptance of self and the celebration of unique strengths and talents. Our focus is on positive social and emotional development, and character education, including traits such as kindness, perseverance, generosity, courage, and appreciation. Pumpkinheads embraces the fact that early education is more than learning to read, write, and identify numbers. It is learning about how to get along with others, learning who you are, and finding your place in this world.
Review Highlights:
The My Awesome Book kit includes everything one requires to plan, prepare and create his or her own personalized hardcover book. Children use included the included templates and suggestion guide to create written and/or illustrated pages that can either be mailed to Lulu Jr. for processing -- or, uploaded via their online website. Within a few weeks Lulu Jr. processes the request and your child receives a copy of his or her very own hardbound book. The kit is easy-to-use and allows children to express their unique creativity. ~ Jessica Allen, M.Ed (Blogger, Cattails & Cobwebs)
Buy this product at:
As an Amazon Associate we earn from qualifying purchases.