Academics' Choice Award™ Winner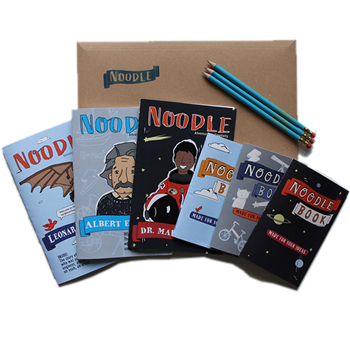 Noodle
Ages: 8 and up
Price: $9.77 USD ($12.95 CAD)
Type: Book
By
Noodle Publishing
Description
Noodle is a book-of-the-month club that aims to nourish children's creativity. Each original book features stories and examples of real life trailblazers that children can learn from.

Each issue brings you:

INSPIRATIONAL STORIES from a trailblazer's life that can be read in one sitting.

PRACTICAL LESSONS on creativity that children can use in their lives.

ACTIVITIES that will interest and engage children to think creatively.

PLUS, each issue comes with a blank notebook and a sharpened pencil for your children to jot down their amazing ideas.


Review Highlights:
What a fun little book! The content was approachable and interactive, my son liked the writing style. It was humorous in some parts and packed with facts in others. The illustrations seemed organic and not cookie-cutter which I prefer. The activities were fun and really introduced ways for the child to synthesize the knowledge they obtained from the reading.
We really loved the writing! It was fun and full of facts too. "This is fun, dad, it's like...you get to make stuff...It let's your imagination go around." My boy liked the Da Vinci book in particular. He read through the whole thing without stopping and pointing something out to me! He was very engaged - so this says a lot regarding writing style, content and visual imagery. Nice work Lily and Noah!
I liked the size of the book, quality of product and the added pencil and notepad! The series teaches history, reading, writing, critical and creative thinking. This is a unique publication that deserves more recognition and popularity.
I loved the sharpened pencil, the writing pad and of course the book. It is the perfect bite size nugget for my 4th grader during summer time. He loves Da Vinci and Einstein! We love the images and creativity put into each page.
Buy this product at:
As an Amazon Associate we earn from qualifying purchases.