Academics' Choice Award™ Winner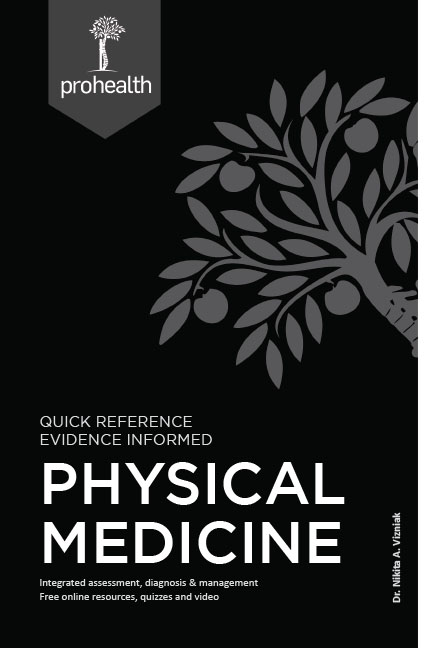 Physical Medicine
Ages: 18 and up
Price: $39.95
Type: Book
By
Professional Health Systems
Description
The Evidence Based Physical Medicine Manual is designed as a quick reference guide for healthcare students, practitioners, doctors & instructors, and as a companion book for the Muscle Manual, Physical Assessment & Conditions Manual.

This text contains concise, easily accessible information on topics including kinesiology, soft tissue release, muscle energy techniques, joint mobilization, osseous manipulation, acupuncture, electrotherapies, athletic taping, nutrition and much more...

In addition, this text is a valuable study guide for students, practitioners and doctors preparing for National Board Exams, State/Province Board Exams, Clinical Skills Examinations and many other standardized licensure examinations.

• Over 1500 Illustrations & Images
• Soft tissue mobes, IASTM, pin & stretch
• Joint mobes and osseous manipulation adjusting
• Online Video, Image & Text Resources
• Multidisciplinary Peer Reviewed (DC, DO, MD, ND, PhD, PT, RMT, RN)
• Clear Presentation & Logical Format Saves Time
• Perfect for Board Exam Review
• A Must-Have for Clinic & General Practice

Review Highlights:
The manual presents a very useful and lucid text for the practice of physical medicine with a brief and interesting introduction into the historic timeline of physical medicine. Instructions and directives for a proficient assessment, diagnosis and management of clinical conditions in physical medicine are discussed in detail with sections on kinesiology, posture variations and vivid photographic instructions on manipulation and other techniques. The manual also has information on the online(websource) that is linked with the text and has videos, images and quizzes. A useful guide to imparting efficient and comprehensive care in physical medicine, pain and rehabilitation including Chiroprasia or massage.
The clinical protocols and methods elucidated is based on evidence based clinical studies which translates to practice guidelines with the best therapeutic outcomes. The text content aims at training therapists with clinical decision making skills with a background of evidence based medicine, allows for more efficient treatment and a wider variety of treatment options offered to clients. The content is presented in a lucid style with extensive references from literature journals, database. The manual is also aided by a free online content source that is updated periodically and includes instructional videos, images and quizzes.
Well researched content and clinical information and a very useful study guide with well formatted, detail discussion of management techniques in physical medicine for an efficient and skillful practice.
Buy this product at:
As an Amazon Associate we earn from qualifying purchases.