Academics' Choice Award™ Winner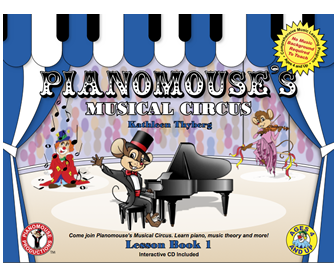 Pianomouse's Musical Circus
Ages: 4 - 6
Price: $129.99
Type: Book, Audio CD
By
Pianomouse Productions
Description
Pianomouse's Musical Circus is a comprehensive music learning system designed for children ages 4 and up. This program will introduce your child or student to the wonderful and exciting world of music. The Pianomouse program teaches children to play piano in a fun and interactive manner. Pianomouse's Musical Circus consists of four Lesson Books with four accompanying Activity Books. Each lesson book comes with an instructional audio CD and Parent/Teacher Notes that correspond with each lesson.

What makes this program unique and special, is that any adult or teacher can teach the program. NO MUSIC BACKGROUND IS REQUIRED TO TEACH! Parents and teachers will learn along with their child or students. Very little prep time is required; just open and go!

All you need to get started is a keyboard or a piano. Silent, practice keyboards are included with the 8 books.

40 lessons and hundreds of activities to reinforce learning, including PIANO, SINGING, EAR TRAINING, MARCHING, PARACHUTE FUN, COMPOSERS and RHYTHM STICKS. At home or in the classroom, Pianomouse's Musical Circus will teach your child or student to play piano and so much more.


Review Highlights:
Pianomouse's musical circus is a perfect way for a 4 or 5 year old child to start playing piano immediately. The curriculum lay out is clear, sequential and very easy to follow. The pages are are supported by an activity book as well as an audio CD to help support a deeper comprehension of what is learned. Many facets of the piano are introduced outside of the skills itself which includes theory, rhythm, music appreciation/history, ear training and singing. No musical background is required to use this simple yet effective system of learning how to play the piano.
My 4 year old boy took to this method quickly. He has especially enjoyed the listening part. Although we've just begun the first lesson book, we are having a wonderful time together!
Buy this product at:
As an Amazon Associate we earn from qualifying purchases.