Academics' Choice Award™ Winner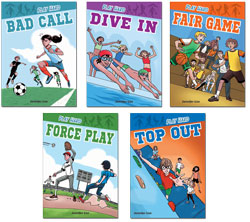 Play Hard
Ages: 8 - 12
Price: $28.00
Type: Book
By
High Noon Books
Description
Ana and Daniel play lots of sports, and their dad is a coach. Ana is in sixth grade and likes to win, but her brother, who is in fifth grade, would rather have fun. They always compete with each other, to see who can hit farther, run faster, or blow a bigger bubble!

95% of the words are from the 950 most commonly used words in the English language, with an emphasis on high-frequency and decodable words. 5% of the words are story specific, defined in context, and used multiple times. Cohesive text promotes fluency and comprehension.


Review Highlights:
The stories are appealing to older students who have difficulty reading grade level books. The books are easy to decode and focus on the most common sight words giving students the repetition necessary to develop their skills. The ability to read chapter books written at their level helps develop confidence and a love of reading.
Students develop decoding skills. They practice reading high frequency words, and improve comprehension.
Buy this product at:
As an Amazon Associate we earn from qualifying purchases.