Academics' Choice Award™ Winner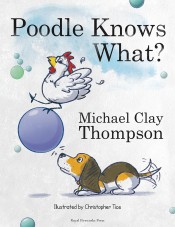 Poodle Knows What? Introductory Grammar for Young Children
Ages: 6 - 8
Price: $30.00
Type: Book
By
Royal Fireworks Publishing
Description
Grammar is hard, and horrible, and miserable, and you have to know zillions of kinds of words, and you have to be a genius to get it all figured out. Right?

Poodle and Sidney would disagree with that. And What?. What?

Poodle is a chicken, and his best friend is a beagle named What?. And before you have a chance to think about that too hard, ZOOM!, in races Sidney, the fastest snail you ever did see. (She's in training to be a verb.)

Between the three of them, they know quite a lot about grammar, and it turns out that all of those myths about grammar being awful and complicated and hard to do are simply untrue. I'm serious.

Grammar-when you have the right chicken, the right beagle, and the right snail-is easy! There are only eight kinds of words, and they are simple to learn. Just ask What?. He'll tell you. What?

Okay, don't ask What?. But What? and his friends will share all of their secrets with any child who opens the pages of this introductory grammar book for young children.

Poodle Knows What? is a delightful book told in unmetered rhyme and overflowing with quirky and endearing images drawn by artist Christopher Tice and incorporating the art of Milton Kemnitz, whose work infuses many of the other books in the curriculum. On page after page, Michael plays with words and with sounds-with what language can do. And the best part is that children get to hear Michael read it himself because every spread of two pages contains a QR code that links to audio of Michael narrating the text. If you think the story is fun, wait until you hear Michael tell it.

Young children will cherish this book for its wit, its humor, its beauty, its cleverness, and-oh yes-its valuable grammar instruction, which will provide them with a solid foundation of grammar knowledge that will benefit them for the rest of their lives. Even children who have advanced beyond the primary levels will find themselves enchanted by Sidney's enthusiasm and by the deep friendship between Poodle and What?. What?

Grammar is not hard, nor horrible, nor miserable, and you don't have to know zillions of kinds of words, and you don't have to be a genius to get it all figured out. Poodle knows that. He knows What?. Exactly.

Review Highlights:
This book is wacky, zany, and even whimsical in the way in which it presents the eight parts of speech. I have multiple books I use to teach 1st-3rd grade grammar but now I have one more! Poodle knows What? is a very playful and goofy way to teach a boring subject such as parts of speech. Next year, I'll be giving my normal noun, verb, adjective mini lessons as usual but I will follow up with excerpts from this book. I think they'll love it! This is a wonderful addition to my teaching library.
Poodle Knows What? was fun to read aloud to my 7 year old. I went through the Instructor Manual first, to be sure I presented the information properly, then began reading aloud. We loved the playful and organic images that showed up on every page. I like how the author identified and defined the part of speech first, then used it in the story. I also like that there are exercises in the book to be sure the child is understanding the concept. We also LOVED having the author read the story. It was much more playful and engaging. He really brought the story to life with his voice.
Buy this product at:
As an Amazon Associate we earn from qualifying purchases.