Academics' Choice Award™ Winner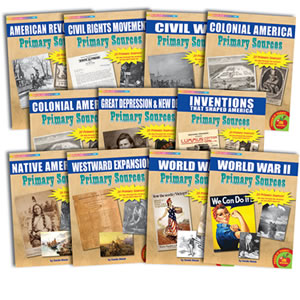 Primary Sources
Ages: 9 - 14
Price: $11.99 each
Type: Book
By
Gallopade
Description
Each Primary Source Pack includes more than 20 historical documents to help students think critically and analytically, interpret events, and question the various perspectives of history. Packs include photos, maps, paintings, newspaper clippings, telegrams, lithographs, diagrams and letters in a mix of color, black-and-white, and sepia finishes all printed on sturdy 8.5" X 11" cardstock.
Review Highlights:
Primary source materials are essential in teaching children how to think like a historian. These materials make them think about their place in time and compare it to other places in time. I showed these images to my students before I introduced the term "inequality" and they were all over it. They knew about this dark part of American history but when they saw the actual images, it spawned a lot of talk about inequity and the civil rights movement. - California Classroom teacher
The images were captivating.
Buy this product at:
As an Amazon Associate we earn from qualifying purchases.