Academics' Choice Award™ Winner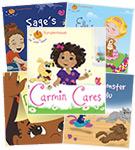 Pumpkinheads Book Series
Ages: 2 - 5
Price: $5.99 per book ($30 for 5 book bundle)
Type: Book
By
Nina Charles LLC
Description
Our book series models how to learn from and interact with others while encouraging acceptance of self and the celebration of unique strengths and talents. Our focus is on positive social and emotional development, and character education, including traits such as kindness, perseverance, generosity, courage, and appreciation. Pumpkinheads embraces the fact that early education is more than learning to read, write, and identify numbers. It is learning about how to get along with others, learning who you are, and finding your place in this world.
Review Highlights:
Bright and sunny characters, expressive faces, and attractive art catches the young child's eye. Awareness building about themselves and others is really key in these toddler and preschool aged books. Common themes of sharing, self-esteem, reverence for the natural world, feeling alone or loved, and making the world a better place are great topics for young children and beyond. Reading, reviewing, and reflecting with preschoolers about these topics is a great start for these themes to be introduced to them. Using these rhyming books for discussion and pointing out real world examples will further deepen the understanding of these lessons in life. Great books! My 3-year-old loves them.
Buy this product at:
As an Amazon Associate we earn from qualifying purchases.