Academics' Choice Award™ Winner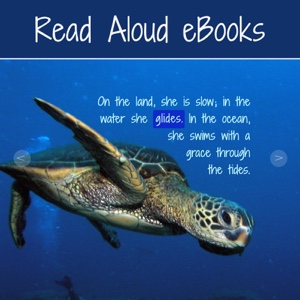 Read Aloud eBooks
Ages: 8 and up
Price: $9.95 (individual license); Classroom licenses for schools ($650 for all 9 titles, one year access)
Type: Book, Audio
By
AmEnglish.com, Inc.
Description
Read aloud eBooks with Adaptive Assessment

Each of our 45 titles features an original poem* with beautiful photographs of an animal and its environment. Students can read along with an audio track, following the highlighted words on each page. Integrated quizzes with adaptive assessment cover: reading comprehension, rhymes, syllables & stress in words, and vocabulary & meaning. Results are tracked in a LMS (Learning Management System). Each title comes with a Teacher's Guide.

*Poems are written in anapestic tetrameter, the same meter used for The Cat in the Hat

Why Poetry?
Research has shown that rhymes are very effective for language acquisition. They make it easier for learners to remember the words, and they reinforce the vowel sounds in English. They also help English language learners with the challenging fact that in English different vowels can make the same vowel sound.

Why Adaptive Assessment?
One of the great things about adaptive assessment is that the questions will automatically level up or down depending on a student's response. This gives students an opportunity for more practice when necessary, but avoids boring students who are ready to move on.

Target audience:
Students at reading grade levels 1-6

The Green Sea Turtle (sample title): Get ready to follow the green sea turtle as she swims through the sea feeding on algae and sea grass. Trace the life cycle of this animal as she travels to the beach where she hatched to mate and lay her eggs. Learn how newly-hatched baby turtles must avoid predators as they crawl to the sea.


Review Highlights:
I absolutely loved that the eBooks combined non-fiction and poetry - two genres that are typically harder to get children to read and become excited about. Using animals and real-life animal photography was a fantastic idea - and a great way to incite interest in the eBooks. The questions in the adaptive assessment were of high-quality - and as an educator, I appreciated that they stretched beyond "recall and repeat." I personally love that most of the provided discussion questions are open-ended and require the child to activate prior knowledge, make an inference, or synthesize what they have just learned to formulate an idea! They are rich, varied, and valuable!
The text of the books helped develop fluency, cadence, rhyme, and word families - as well as provided rich information about animals. The assessment piece helped to develop reading comprehension, rhyme, knowledge of syllables, vocabulary, finding the main idea of a text, and making inferences.
Buy this product at:
As an Amazon Associate we earn from qualifying purchases.