Academics' Choice Award™ Winner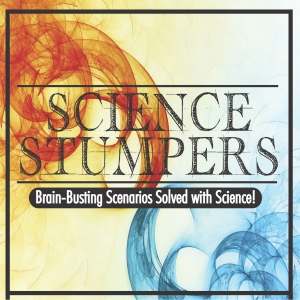 Science Stumpers
Ages: 8 and up
Price: $16.95
Type: Book
By
Missing Piece Press, LLC
Description
Science Stumpers has a game-like quality that kids enjoy both solo and in group settings. It's a fun and engaging approach that excites learners of all ages and covers scientific topics ranging from subatomic to interstellar, with many fascinating peculiarities along the way. Science Stumpers contains well over 100 mini-mysteries and solutions.




Review Highlights:
This unassuming book contains the seeds for multiple rabbit trail science adventures that encourage critical thinking, scientific exploration, and the gaining of new, advanced scientific knowledge.
We loved that this book has easily digestible, bite-sized mysteries that led us to posit our own hypothesis before turning to reveal the answers. Diagrams, thorough explanations, and extensions were all included, leading us on even more learning adventures!
This book isn't flashy, and could use better cover art to draw in students, but the content itself is great.
Science Stumpers is informative and enjoyable for the whole family to use together. It teaches science concepts and deductive reasoning. This entertaining and informative book can be used like a game, where you read the scenarios out loud and then have your kids try to figure them out. It could also be used independently in your homeschool or any time.
Buy this product at:
As an Amazon Associate we earn from qualifying purchases.