Academics' Choice Award™ Winner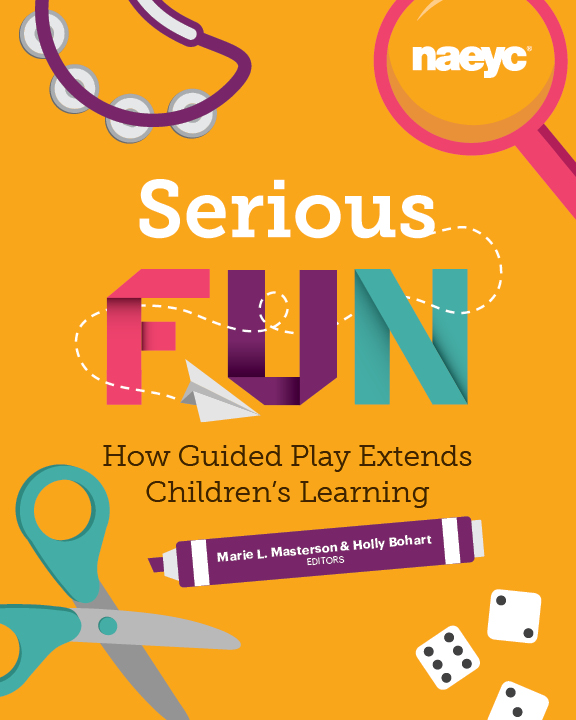 Serious Fun: How Guided Play Extends Children's Learning
Ages: 3 - 6
Price: $28.00
Type: Book
By
National Association for the Education of Young Children (NAEYC)
Description
Children's natural curiosity and dynamic imaginations can lead to exciting and meaningful learning opportunities. Discover how to provide guided play experiences along with opportunities for unstructured play to support children's knowledge in key areas and their lifelong enjoyment of learning.







Review Highlights:
Serious Fun instills a deeper understanding of the importance of play. It teaches the benefits of learning through play - both free and guided.
I now keep this book by my bed stand so I can read it before I go to sleep. I've enjoyed reading it through and although I already believe in the power of play as kindergarten teacher, this book has just supported and validated my perspective. I really like everything I've heard about the Reggio Emilio approach in chapter 4 and now I know a bit more about it. This chapter gave me some new ideas in how to approach my art class and how to make stories out of pictures. It reminded me I needed to revisit each art work as children will see new things and want to share more everyday. I really liked the idea of acting out stories in their paintings. This would be so helpful for some of my shy kids but also be really good for my loud and boisterous ones to act out and be applauded for their actions! I really liked the "Try This" sections at the end of each chapter too. Thank you for letting me review such a wonderful book!
The book itself has a nice feel to it, bright colors, and relevant images. This is a scholarly take on how approaching play based pedagogy can create a learning environment that is best for both teacher and student. It ties in the natural and spontaneous playfulness and curiosity of preschooler/kinder with the infusion of academic content. The current research helps to support playful, imaginative and creative play in all pre-k and kindergarten classes. This book is very important considering the need for our current public system to develop happier, healthier, more creative and innovative students in the near future. Our public educational system is old and needs to change. The way to make this change is by presenting current research and data about the benefits of small group work, imagintaive play, and differentiated instruction versus more facts, memorization, and mimicry. I do hope this book is widely used for Early Childhood Teacher Professional Development courses.
Buy this product at:
As an Amazon Associate we earn from qualifying purchases.