Academics' Choice Award™ Winner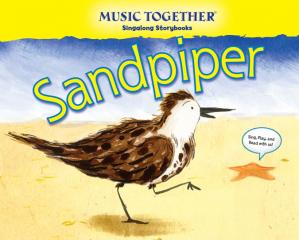 Sandpiper Singalong Storybook
Ages: 0 - 8
Price: $13.95
Type: Book, Singalong Storybook, Audio
By
Music Together LLC
Description
Run in the sand and play in the waves with a little "Sandpiper" and his flock until it's time for them to go to sleep in the moonlit dunes.

"Sandpiper" is based on the popular song of the same name from the Music Together curriculum, which is featured on the award-winning Music Together "Family Favorites" CD. A free digital download of the song is included with the storybook.

This picture book inspires singing, pre-literacy learning, and imaginative play between children and their favorite adults. The book includes activity suggestions designed to stimulate learning and music-making at home and in the classroom. Other activities are demonstrated on the video "Using Your Singalong Storybooks Musically" at http://www.musictogether.com/storybooks.

About Music Together: Music Together, the acclaimed international early childhood music education program for children birth through second grade, has enriched the musical lives of families around the world. Since its founding in 1987, Music Together has offered developmentally appropriate, research-based classes for children and their parents and caregivers in more than 2,500 communities in 40 countries around the world. Hundreds of thousands of families have come to love Music Together classes-and our music!
Review Highlights:
I love the Music Together books. They bring back wonderful memories of my family's time in the live classes. The beautiful illustrations are engaging and my young son enjoys pulling out the book just to admire them. For those who play instruments, the music, on which each book is based, can be found in the back for musical accompaniment. You can also listen to the actual songs on the Music Together website, if you don't have an instrument handy. These books are the next best thing to being in a live classroom. I highly recommend them to families, especially those with young children.
A spellbinding, family-fun song and a beautifully illustrated book! It's multidisciplinary approach develops oral language, singing, and pre-literacy skills, along with topic learning. Plus, it inspires physical activity (as it's hard not to act out the song).
Buy this product at:
As an Amazon Associate we earn from qualifying purchases.