Academics' Choice Award™ Winner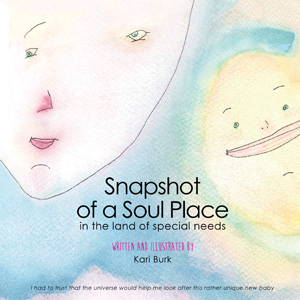 Snapshot Of A Soul Place in the land of special needs
Ages: 18 and up (for Parents, Caregivers and Educators)
Price: $30.00
Type: Book
By
Grand PooBah Music Publishing
Description
A mother's journey raising a daughter with Down syndrome in painting, photos, poetry and prose. Winner 2016 Family Choice and NAPPA Awards. Distributed in the US by specialneedsproject.com.

Author/illustrator Kari Burk says: "Perhaps the greatest obstacle faced by a person with special needs is being misunderstood, and in turn isolated, from life's processes and events. This book is my response to this challenge, celebrating the people, places and images that have shaped our lives and inspired my art."

Book - Autobiography / Family / Developmental Disability, 96 page hard cover, 8.25 x8.25 in with 40 original artworks and 60 photos. ISBN 978-0-9947994-0-1


Review Highlights:
Snapshot Of A Soul Place is a touching and tear-jerking read with many heartfelt, inspiring messages. The true story chronicles the life of a mom and child with special needs, her family and support groups. With beautiful illustrations, photography, and poetry the narrative evokes empathy and demonstrates the strength of character we should all strive to achieve.
Kari Burk's creatively presented autobiography is sincere and engaging. It is as empowering as it is poignant, and offers many practical suggestions for parents, educators, and caregivers of children with Down syndrome. We highly recommend this book.
Snapshot of a Soul Place is a profoundly touching book about the deep love and acceptance a mother has for her daughter. Author, Kari Burk was able to capture her experiences and reflections of this journey using a unique blend of poetry, art, images, and stories. Many years were spent putting this book project together, and it shows with its tender words, heart touching images, and one of a kind format.
Buy this product at:
As an Amazon Associate we earn from qualifying purchases.