Academics' Choice Award™ Winner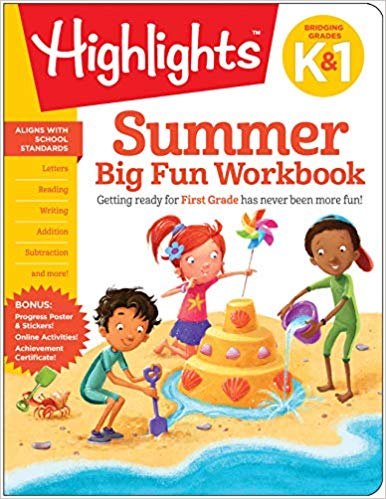 Summer Big Fun Workbooks
Ages: 3 - 6
Price: $12.99
Type: Book
By
Highlights Learning
Description
Get kids ready for second grade and keep their learning skills sharp all summer with this innovative workbook that's curriculum-based and teacher-approved. Kids will love the puzzles, poems, stories and more that make skills practice fun. Plus, there's lots of bonus items: a pull-out HIDDEN PICTURES progress poster, reward stickers, an award certificate, outdoor activity ideas and crafts!

Expertly crafted to prevent "summer slide," the Summer Big Fun Workbook will give kids a head start on their upcoming school year. It provides the right balance of review to keep skills sharp, and a preview of what's to come.

The varied content will appeal to kids with a broad range of learning styles. Humor and colorful illustrations keeps kids absorbed longer, which helps them develop persistence and attention to detail. Great for homeschoolers, too.

Review Highlights:
We love Highlights! We have been receiving Highlights magazines for years so it was no surprise the quality we were going to receive. The subjects were color coded and the content was great for my little one. We worked on shapes, colors and basic math and reading. Thank you for such a wonderful book!
I liked the color and comprehensive aspect of the workbook. It has everything you need and more for your child not to fall behind during summer time.
I've always loved Highlights over the years so I was happy to review this product. We began doing the 1st/2nd grade work book together. He didn't put up much fight as he loves school and loves to read. I really liked the colors, illustrations, and how the pages were organized. We love the poster and stickers. It is a well rounded approach to keep kids thinking over summertime.
The product moved through chapters that were rewarded with a completion sticker that fit into a poster that documented the journey and a fun project. The color coding of chapters and to easily gauge where the student was at in the process was helpful to see. I liked that the assignments often had a puzzle or fun graphic to engage with to invite the student into the activity.
Math, reading comprehension, spelling, and writing were the predominant focus in this workbook. There were additional science ideas that completed the chapter end projects. It would be nice to integrate more outdoor summer learning activities or observations into this curriculum though.
Buy this product at:
As an Amazon Associate we earn from qualifying purchases.