Academics' Choice Award™ Winner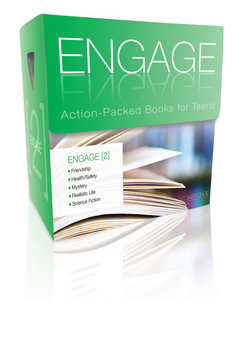 Teen Emergent Reader Libraries - Engage
Ages: 13 and up
Price: $499.95
Type: Book
By
Saddleback Educational
Description
The Teen Emergent Reader Libraries have been developed to solve the issue of motivating the most struggling teen readers to pick up a book and start reading. Written at the emergent and beginning reading levels, the books offer mature, teen-centric story-lines that entice teens to read. Each boxed set comes with 60 books (3 each of 20 titles) plus an extensive Teacher Resource Guide. Each book is supported by a lesson plan, guided reading questions, a reproducible comprehension activity and a quiz.
Review Highlights:
This product is intended for teen students who are significantly below grade level in reading ability. It's a challenge to create text for teens that is at the K-1 reading level but yet doesn't seem childish. These sturdy paperback books use photographic images manipulated to look like graphic novels and a minimum of text on each page to create engaging stories. There's no getting around the fact that the text is simpler, but the books don't look like beginning readers in imagery. An accompanying teacher manual includes general ideas for use as well as a synopsis, pre-reading strategies, teaching ideas for specific skills, and extensive list of discussion questions, a worksheet on a specific reading skill, and a comprehension quiz for each book. my teen and preteen children agreed the texts were attractive and engaging.
Buy this product at:
As an Amazon Associate we earn from qualifying purchases.