Academics' Choice Award™ Winner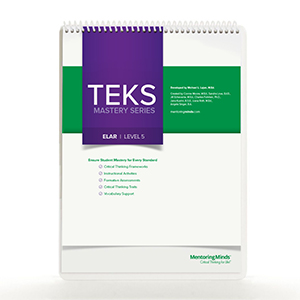 TEKS Mastery Series (ELA)
Ages: 6 - 12
Price: $24.95
Type: Book
By
Mentoring Minds
Description
The TEKS Mastery Series from Mentoring Minds guides educators as they design and execute instruction leading to student mastery of the Texas Essential Knowledge and Skills for Mathematics, Science, and ELA.*

TEKS Mastery Series flip charts include:

Grade-level and content-specific standards and other helpful information in a teacher-friendly format.
Each specific standard unpacked on an individual panel.
Student outcomes for mastery of the standard, common errors and misconceptions, teacher-to-teacher tips, critical thinking prompts, vocabulary support, activities to build student mastery, and assessments to monitor student progress.
Additional components including Glossary, Formative Assessments, Critical Thinking Traits, and Critical Thinking Frameworks (DOK, RBT, CRM).
Support for collaborative instructional conversations.
Valuable resources applicable for teacher training, grade-level meetings, and team meetings.

* Features the new ELA TEKS.


Review Highlights:
TEKS Mastery Series, ELAR, is a flip chart for teachers that is packed full of ways to develop critical thinking skills in young elementary school level minds. After looking through the detailed lesson plans that include oral language, reading, writing, vocabulary, communication, inquiry, and lots of critical thinking, I had so many new ideas for my classroom! I'm not one to follow a prefabricated lesson plan book page by page but like to pick and pull from multiple resources. Whether or not you are a new teacher and need something concrete to hold onto and teach directly from or a more seasoned teacher who likes to have their favorite stack of lesson plan books to choose from, TEKS should be included in your teacher's toolbox. I've seen many, many books like this in the past 20 years as both an elementary and middle school teacher, and this one really stands out. If you are looking to infuse more critical thinking into your curriculum, you should really consider this book.
The scripted critical thinking prompts in these books are excellent, and really make this textbook stand out from others on the market. The questions especially help new teachers provide deeper student learning.
Buy this product at:
As an Amazon Associate we earn from qualifying purchases.