Academics' Choice Award™ Winner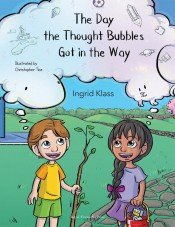 The Day the Thought Bubbles Got in the Way
Ages: 4 - 8
Price: $17.50
Type: Book
By
Royal Fireworks Publishing
Description
Play should be fun for Rosa and Kevin, but they find that their thoughts make them dissatisfied. This engaging story, told in rhyme, follows them as they learn how to transform their thinking so that they can be happy. Beautifully illustrated, this book leads children into the foundations of Buddhist philosophy. Pages in the back provide an explanation of the philosophy, questions for discussion, and resources for further exploration.

Review Highlights:
Zen Buddhism for kids, meta-cognition, and the story of Siddartha? Every child should be read this book! I have a few titles such as "Buddha Bedtime," "Zen Shorts", and a "Handful of Quiet" by Thich Nhat Hanh. These are treasures for our children. Children and adults need to be introduced to Buddhist thought as it is NOT a foreign religion, but a way of thinking and a way of life. It is not a religion of dogma but one of thoughtfulness and thoughtlessness (conscious thoughtlessness that is). "The Day the Thought Bubbles Got in the Way" is a wonderful way to introduce Mindfulness to children. Children need to learn HOW to think not WHAT to think. This book will help kids think about their thoughts which can eventually lead into thinking about emotion, feeling emotion, and offering tools to work with emotions. I'll be using this book to begin my 21st year of teaching in the fall. Thank you!
The book addresses many important topics such as being in the present, controlling your thoughts/emotions, and conflict resolution. I particularly liked the multicultural characters, the cute drawings to engage young learners, the rhyming text, and the simple chant like verses that children can memorize. It's perfect for the young learner who is just beginning to be aware that others may have different ideas.
This would be perfect for preschool to 2nd grade. It can be used for teaching social-emotional, conflict resolution, and even used in the writing process (writers block, imagining).
The concept/message is altruistic and the illustrations were cute.
Buy this product at:
As an Amazon Associate we earn from qualifying purchases.