Academics' Choice Award™ Winner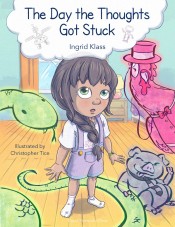 The Day the Thoughts Got Stuck
Ages: 6 - 9
Price: $17.50
Type: Book
By
Royal Fireworks Publishing
Description
Rosa wants a robot for her birthday, but when she doesn't get the one she wants, she finds that her angry and dissatisfied thoughts stick to her like glue, and she can't seem to get rid of them. Three unusual characters arrive, each promising to remove the negative thoughts from her head, but each one fails and in fact only serves to make the situation worse. Finally a new character appears, and it leads Rosa to the truth about how to combat ignorance, hate, and greed so that she can find happiness, even when things don't go exactly as planned. This fun story, told in rhyme, is delightfully illustrated and includes pages in the back that provide an explanation of the basics of Buddhist philosophy, questions for discussion, and resources for further explanation.

Review Highlights:
I thought the book was beautifully illustrated. The contrast was visually pleasing and the main character and animals were very kid-friendly. I thought the central message of being able to communicate your emotions was really key. Sometimes kids need to be able to put a word to their feelings. This book is great for that!
It's a fun read, the rhymes flow nicely, and it presents important topics to discuss with young children such as compassion, suffering, wants vs. needs, and how our thoughts impact our feelings.
The illustrations are colorful and inviting. The initial premise of getting bad or negative thoughts out of one's head is a good idea.
Social emotional learning is important and this book is a great, kid-friendly story to address the subject. I would recommend reading it in a small group setting where there is time to discuss and analyze. The book should be read with a teacher or parent to help discuss the author's premise. I think it would be best used in an environment where there is time to dig deeper into the emotions of the story.
Buy this product at:
As an Amazon Associate we earn from qualifying purchases.