Academics' Choice Award™ Winner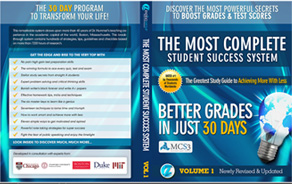 The Most Complete Student Success System - High School Edition
Ages: 14 - 18
Price: $129.97
Type: Book, eBook, Audio, Template, Poster
By
EduNova
Description
The Most Complete Student Success System, MCS3, is created in collaboration with education experts from leading universities. MCS3 teaches students how to get better grades and improve their study skills. Students will learn their expert study strategies to achieve more with less. They will master every type of test without stress, increase their GPA and decrease their study time. This system is so unique that it has 8 U.S. patents pending. This tested and proven system has been used by 61,000 students in 82 countries. A split test performed with over 5,500 students showed an average 1.7 point increase in GPA over a 12 month period. It is the best investment a parent or student can make and is backed by a 90 day unconditional money-back guarantee.
Review Highlights:
The Most Complete Student Success System consists of two volumes with a total of 31 chapters, a workbook, an audio CD of the text in the two volumes, a CD containing an ebook version of the volumes, and a CD of the workbook templates. The materials are organized into easy to read text, generously illustrated with quotes by famous thinkers. Most of the text is in black and white, but key points at the end of chapters and certain diagrams are illustrated in full color and the workbook pages are all in color.
I reviewed the high school edition, which starts broadly with writing goals and using time wisely then narrows to memory skills and academic reading, writing, and speaking skills. The second volume continues with social-emotional skills, study skills, and test taking skills, and then broadens the focus again by suggesting ways to create a support network and general health and wellness information. The idea is to read (or listen to) one chapter a day for 31 days, incorporating the suggestions as you go along.

...the books are concisely arranged and easy to read and digest. There are a lot of ideas in the two volumes to come back to and think about more deeply even after the 30 days of reading are over. I would recommend this material to someone who wants to improve their overall study skills and didn't want to piece the ideas together from other sources.
Buy this product at:
As an Amazon Associate we earn from qualifying purchases.