Academics' Choice Award™ Winner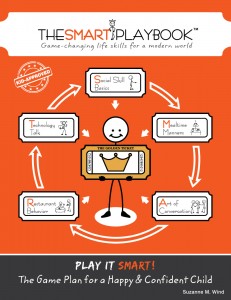 The SMART Playbook
Ages: 6 - 12
Price: $19.95
Type: Book
By
The SMART Playbook / Modern Grace Publishing
Description
Parents and educators have called The SMART Playbook a perfect solution to teach children social skills and manners in this fast-paced digital world. Written in a relatable style and chock full of grams, this book will help children learn game-changing life skills. The child is the player. The parents are the coaches. The book is the guide. Life is the referee. 5 SMART topics to help children succeed in life and stand out for all the RIGHT reasons: Social Skill Basics, Mealtime Manners, Art of Conversation, Restaurant Behavior and Technology Talk.


Review Highlights:
The SMART Playbook is a much more engaging way to teach/learn etiquette and social skills than I've come across before. I like that it really doesn't take a whole lot of effort on my part--everything (other than role-playing scenarios) is contained in the book. The skills taught are very practical, useful, and necessary for everyday social success.
As a parent, I am so excited about this book. I have 3 exuberant little boys (ages 7, 4, and 1), and teaching them manners isn't always a picnic. I occasionally find myself nagging, giving ultimatums, etc. It can get pretty negative. The SMART Playbook looked perfect for my oldest. I haven't gone through the entire Playbook with my son--that will take quite some time--but the parts we have gone through have focused on proper etiquette when: introducing one's self, at a friend's house, answering the telephone. We've only just scratched the surface.
Buy this product at:
As an Amazon Associate we earn from qualifying purchases.