Academics' Choice Award™ Winner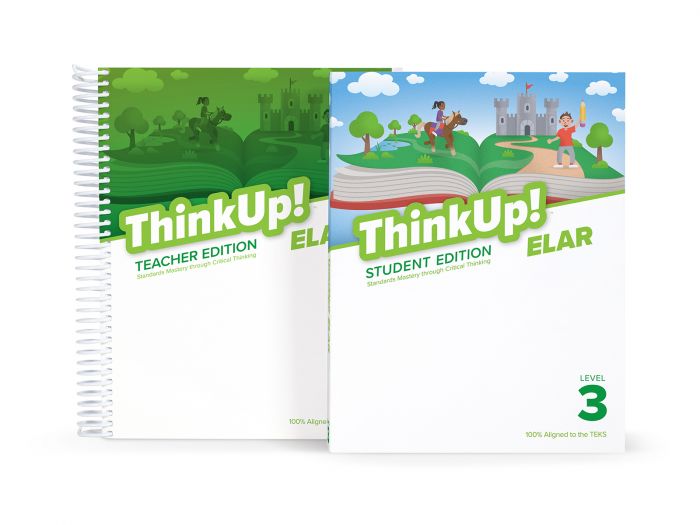 ThinkUp! ELAR Class Set
Ages: 6 - 14
Price: $438.90 for class set of 20 Student Editions + 1 Teacher Edition + shipping
Type: Book
By
Mentoring Minds
Description
ThinkUp! ELAR (Grades 1-8) introduces the focus TEKS and the Critical Thinking traits that support students as they learn, practice, and master the TEKS concepts. ThinkUp! ELAR - English Language Arts and Reading - includes Getting Started, Instruction, Assessment, Intervention, and Extension components that help teachers engage and accommodate all learners.


Review Highlights:
After spending many hours reading through the teachers manual I found the methodology, in depth and highly detailed content, and strict adherence to the TEKS to be the highlights of this approach to teaching ELAR. The patterns of thought (getting started, instruction, assessment, extension, reflection) found throughout both the student and teacher manuals were sequenced to best support students in their critical thinking within the context of ELAR. Each element was well explored with strong introductions, engaging instruction, assessments, and well thoughtout reflections. The questions and content were rigidly aligned to the TEKS (for hopes of adoption by Texas schools) and I'm sure after completing this text students would shine on the TAKS or STARR. With that said, I must say that in order to complete this book as clearly and concisely as it is written, classes would need to be taught with proper student/teacher ratios and lessons would need to move slowly. The information in this text is solid and the best I've seen in many years but some of this content will be quite complex for a 9 or 10 year old child. But, if you want deeply thinking children that can convey difficult concepts, evaluate new ideas, and deconstruct fiction and non-fiction text, I'd highly recommend this book.
If I was still a teacher in Texas there is no doubt I would adopt this text in order for my students to not only do well on their tests, but to grow into critical thinking individuals.
This product is unbelievably thorough, thought provoking and educational. It develops critical thinking, writing, reading, and discussion skills. It also simplifies the task of aligning lesson plans and activities to TEKS standards, which is a huge time-saver.
Buy this product at:
As an Amazon Associate we earn from qualifying purchases.